Pork is typically what's for dinner in China. The country consumes 54 million tons each year and has scrambled for more pork producing capacity, which explains Chinese meat producer Shuanghui's recent bid for Smithfield. And yet, it's the price of beef, not pork, that's skyrocketing.
Beef prices surged 28% in June (link in Chinese) compared with the same month in 2012 (even though overall inflation was just 2.7%). Beef prices have risen 30% every month for the past year: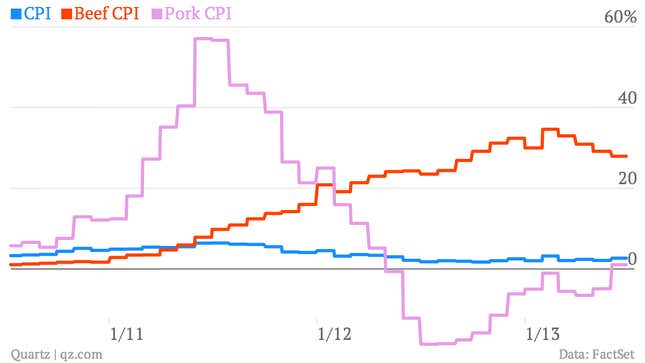 The rise in beef prices has dissipated slightly since its February 2013 peak of 35%. Around that time, demand for beef imports began rising sharply in response. China imported 75,000 tonnes (82,000 tons) of beef from January to April—a tenfold increase compared with the same period in 2012. The import surge has taken a slight edge off rising prices, but not much.
So what's behind China's hyperinflating beef?
Rising demand due to improving living standards is one reason. Chinese consumers generally don't cook beef at home (pdf, p.16), but it's a popular choice for eating out, particularly in hotpot and Korean barbecue.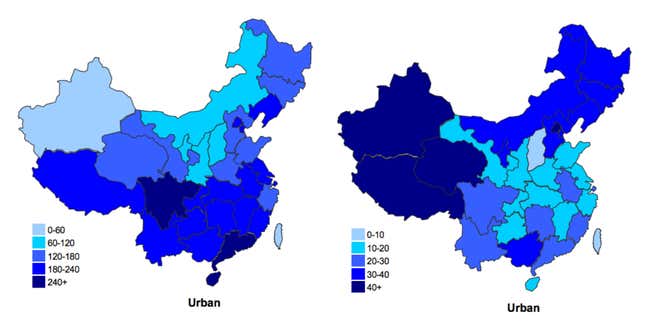 Beef has become particularly popular among Chinese in their early 30s and younger (link in Chinese), as Zhao Hang, the deputy director of the China Animal Husbandry Association Cattle Industry Branch, told Yicai. Zhao says he expects Chinese consumption to continue to surge as a result.
Beef exporters stand to benefit for several reasons. Foreign beef is becoming more affordable thanks to the rising value of the yuan, which has strengthened nearly 4% over the last year.
Also, highly publicized food safety disasters have left Chinese consumers favoring foreign meat, which they perceive to be of higher quality.
Meanwhile, Chinese beef supplies have fallen as the country's herd has steadily declined. In 2000, there were 97 million heads of  beef cattle in China; in 2010, there were only 67 million, according to official data. Making a decent living raising beef cattle in China is difficult given skyrocketing real estate and animal feed prices, according to Zhao.
But more farmers are entering the business again now that beef prices are rising, which drives up calf prices, too. Those have leapt from $234 per head two years ago to as much as $979, Yicai reports.
Since it takes several years before cattle can be brought to slaughter, beef prices and imports will remain high for a while.