The picture above has an iconographic feel. It was taken almost exactly six months ago: January 28th, the ninth day of Donald Trump's presidency. It was also the day of the administration's first policy setback, as a judge blocked (paywall) the sudden ban on immigration from seven countries, a White House action that had caused panic, chaos, and protest at US airports.
Nonetheless, the mood in the Oval Office on Jan. 28 appears confident in this AP photo. Trump, looking jovial and expansive, is in the midst of an hour-long phone call with Russian president Vladimir Putin, who had called to congratulate Trump on his inauguration. An upbeat summary released by the White House that day read: "Both President Trump and President Putin are hopeful that after today's call the two sides can move quickly to tackle terrorism and other important issues of mutual concern."
Vice president Mike Pence is a stolid, calm presence, lit strikingly in the center of the frame, seemingly engrossed in a book—perhaps a Bible? National security adviser Michael Flynn appears distracted by a phone. Press secretary Sean Spicer and chief of staff Reince Priebus watch their boss's performance with cautious deference.
In another picture (shown below) of the event, Trump's chief strategist, Steve Bannon, hovers too, his tieless black shirt and jacket making him seem a slightly menacing presence among the other, more traditionally besuited men.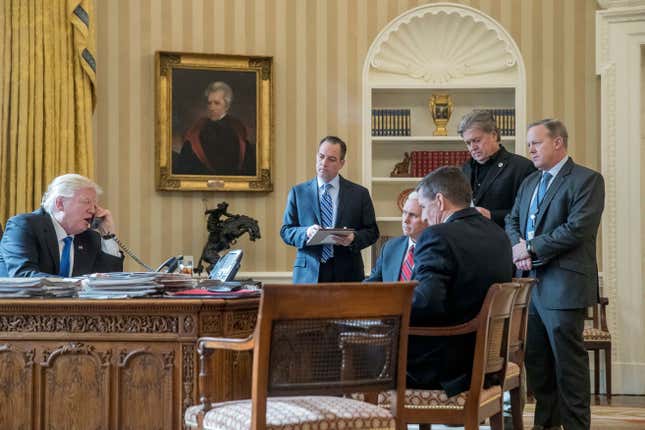 Yet two days before this tableau took place, acting attorney general Sally Yates had come to tell the White House counsel that Flynn was vulnerable to Russian blackmail, because he had failed to tell Pence the full truth about his meetings with the Russian ambassador to Washington. Pence must have known, as he sat listening to the president's call with Putin, that the man in the chair to his left, in charge of the nation's security, was now a security risk.
Why it took the White House a further 16 days to push Flynn out was to become just one of the questions in the swirling controversy about the campaign's Russia ties. As those questions have multiplied, the Republican party has grown ever more wary, and now its lawmakers in the House of Representatives have voted almost unanimously for a bill that ties Trump's hands in any future negotiation with Russia.
In a sign of his worsening relationship with the party, Trump last week appointed Anthony Scaramucci to run White House communications, reporting directly to the president instead of, as is customary, to the chief of staff. Scaramucci, a New York hedge-fund manager with an uncanny propensity to mimic Trump's own words and gestures, is a sworn enemy of Republican party stalwarts like Spicer and Priebus, as well as the less traditionally conservative Bannon, as he made painfully clear in a recent obscenity-laden tirade to a journalist.
Spicer quit in protest at Scaramucci's appointment, and Friday (July 28) Priebus was unceremoniously fired. Attorney general Jeff Sessions, another Republican loyalist, has come under blistering attacks from Trump for recusing himself on the Russia probe. And Bannon's influence waned long ago.
With Trump increasingly relying only on his family and New York loyalists like Scaramucci, Pence has become the last and pivotal connection between the president and the party and DC, if not the entire outside world. Does he not look, in this photo taken six months ago, as if he knew exactly this would happen?