Despite Turkey's plentiful beaches, resorts, and rich cultural heritage, tourists have been put off by a series of deadly terror attacks, last year's unsuccessful coup against president Recep Tayyip Erdogan, and the brutal crackdown that followed the attempted ouster. Germans, traditionally the largest group of tourists in Turkey, have drastically reduced their trips to Turkey in recent months. That was on top of a ban by Russia, home to the second-largest group of tourists to Turkey, on charter holidays to the country after Turkish military shot down a Russian jet near the Syrian border in 2015.
Turkey derives 12% of its GDP from tourism, so this downturn hit the economy hard. But now the sector appears to be emerging from its slump, reporting 9% growth in tourism income in the second quarter versus a year ago. In June alone, tourism revenue jumped by 20% year on year: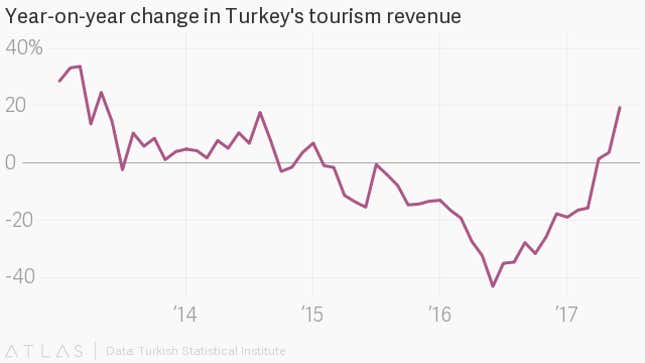 Ankara and Moscow patched up their differences earlier this year, so Russian tourists are free to take vacations in Turkey again.
However, relations between Ankara and Berlin are deteriorating rapidly, and this will take a toll on the holiday industry. The German government harshly criticized Erdogan for the arrest of a German-Turkish journalist earlier this year (he is still in jail) as well as the arrest of a German human right activist this month. Last week, German foreign minister Sigmar Gabriel advised against travel to Turkey: "German citizens are not longer safe from arbitrary arrest."
Even after a steep decline, Germans were by far the biggest group of visitors to Turkey last year, accounting for around 15% of all foreign tourists. Sensing a further decline in German interest, hotels are focusing marketing campaigns at holidaymakers in Russia, the Balkans, and the Middle East. One hotelier told Deutsche Welle that bookings from Russia were back to 2015 levels, while another said German bookings had fallen from 70% of their typical total to just 10% this year.