Nike is one of the business world's shining examples of how to clean up an image: In the 1990s, the company was plagued by reports that it used sweatshops and child labor. Pressure grew until 1998, when Nike cofounder Phil Knight publicly committed to changing the company's practices, and Nike spent the next decade doing just that.
Now, Nike's sweatshop problem is threatening a comeback. On July 29, students and activists around the world participated in a day of protest against Nike, organized by United Students Against Sweatshops (USAS). The demonstrations, in cities such as Boston, Washington D.C., Bangalore, and San Pedro Sula in Honduras, represented an escalation of allegations against Nike that have been slowly bubbling up.
Among them are claims that workers at a Nike contract factory in Hansae, Vietnam, suffered wage theft and verbal abuse, and labored for hours in temperatures well over the legal limit of 90 degrees, to the point that they would collapse at their sewing machines. Nike is also accused of cutting jobs at the Hansae factory and pulling production from a factory in Honduras with a strong union presence, resulting in hundreds of workers losing vital jobs. The company has also allegedly denied the independent monitoring group Worker Rights Consortium (WRC) access to inspect its contract factories. The WRC was founded in 2000 by universities, international labor rights experts, and student groups, including USAS, to ensure that products bearing university logos were made under conditions that respected workers' rights. (The organization says it had no part in the USAS protests.)
The WRC issue could become a serious one for Nike. The sneaker giant owns a major part of what the WRC estimates is a $4 billion retail market for university-logo products, the largest share of which is apparel. Georgetown, Northeastern, and Rutgers—all among the WRC's 190 university affiliates—have already cut ties with Nike or said they will allow their contracts to expire due to the company's stance on factory inspections. The University of Washington, meanwhile, has temporarily extended its expiring contract with Nike as it awaits the outcome of Nike's mediation with Georgetown. (Update: Nike and Georgetown announced an agreement on Aug. 30 that gives the WRC formal access to Nike supplier factories making products for WRC affiliates.)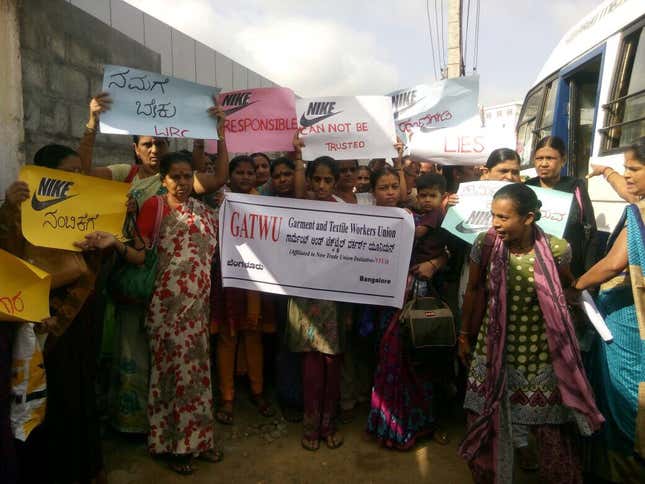 The conditions alleged at the Hansae factory were revealed in a WRC report (pdf) published in December. "[Hansae's] customers, including Nike, which has been making university logo goods at the factory for more than a decade, have been auditing the factory for years," it noted. "Yet these brand and retailer audits never identified and never corrected most of the serious labor rights violations taking place at Hansae. Instead, these were not uncovered until the WRC launched its investigation in October of 2015."
According to Scott Nova, executive director of the WRC, Nike abruptly ceased cooperating with the organization in late 2015, around when the investigation of Hansae began. "Why they stopped, I do not know," Nova says, though he believes the group's independence from universities, unions, and the companies it monitors could be one reason.
"Nike is obligated, under many of its licensing agreements, to provide access to relevant factories for universities' inspectors," Nova said in a statement. "Nike's discomfort with the WRC's independence from industry funding and control is not a valid excuse for ignoring these obligations. We hope Nike will return to compliance."
Nike, however, contends that its stance toward the WRC has not changed. It never regarded the WRC as an approved monitor of its factories, and never gave it access to any itself.
In a statement, Nike added that it remains committed to independent monitoring. But of the WRC, it said, "We respect the Worker Rights Consortium's (WRC) commitment to workers' rights while recognizing that the WRC was co-created by United Students Against Sweatshops, a campaigning organization that does not represent the multi-stakeholder approach that we believe provides valuable, long-lasting change."
Beyond allowing the WRC access to factories, USAS also demands that Nike return to its full production levels at Hansae. Nike, it claims, reduced its order volumes after the WRC, putting workers out of jobs. "This is standard corporate cutting and running," says Angeles Solis, international coordinator of USAS.
Nike confirms that it reduced order volumes at Hansae. But it has also worked steadily to help correct the violations found at the factory, according to a report (pdf) by the Fair Labor Association.
USAS has also demanded that Nike reinstate its production at a factory in Honduras that it says Nike pulled out of completely, affecting more than 400 workers and costing many their jobs. "Historically, there's been a strong union fight there," Solis says of the factory, "so workers are suspecting that's anti-union hostility."
Nike says it only left the factory because Gildan, the Canadian apparel manufacturer that recently purchased American Apparel, forced it to. "It was not Nike's decision to exit the STAR factory, owned by Gildan Inc, in Honduras," Nike said. Nike insists it has worked with Gildan to minimize the job losses.
USAS is not convinced. "Nike has the ability to pressure Gildan to address this, and so far they have not," Solis says.
Gildan acknowledges that it took over production at the facility, which it acquired when it purchased Anvil Knitwear in 2012. It has used that factory and one other to make clothes in Central America for other brands, and says it consolidated Nike's production in the other facility to optimize its Anvil production.
The reasons for the change were explained to the unions, says Gildan spokesperson Garry Bell. "It is important to say that these changes were not made in any respect because of the existence of a union in this facility," he says. He also adds that workers were offered the opportunity to relocate to their other factories in Honduras. Many did, while others left voluntarily, he says.
This story has been updated with Gildan's response. It has also been corrected to clarify that University of Washington has not yet cut ties with Nike or chosen to let its contract expire.