Paris
Maxime Serret, a student from one of France's top engineering schools, looked amazed. We met outside Anticafe, a coffee shop that charges patrons €5 ($5.90) per hour and everything else—wifi, espresso, strawberries, avocado (of course)—is included. He was really there, though, to see the adjoining "Station F," a huge new super-incubator for tech companies that recently opened in Paris.
Serret is the sort of person that Station F was built to attract. The Ecole Nationale Superieure d'Arts et Metiers student is already part of a startup and heard about it from a colleague who studied at 42, a groundbreaking coding school. Serret marveled at Station F's size: The former train depot in the 13th arrondissement—where tapestries for French monarchs used to be made—is designed to house 1,000 new companies, taking up some 34,000 square meters (366,000 square feet). Investors like venture capital fund Daphni are located on-site, as are 3,000 desks for startups. Eventually, the complex will also feature 100 shared apartments.
Looming large over all this is internet billionaire Xavier Niel, who poured millions of euros into Station F. He founded 42, the programming school, in Paris in 2013 and recently opened an outpost in Silicon Valley, reversing the typical direction that innovative ideas travel in the tech world.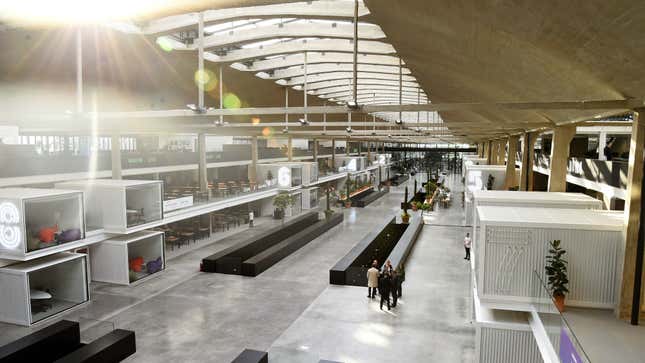 Until recently, the global technology boom seemed faint in Paris. French society is more risk averse and less open to startup opportunities than the US and UK, according to a 2016 entrepreneurship survey (pdf). Europe, in general, has fewer serial entrepreneurs than in America, where a well-established venture capital industry traces its roots, by some accounts, to the 19th century.
Those attitudes are shifting. There was a time when most French university students wanted to be civil servants, according to Cyril Chiche, co-founder of a Paris-based payment app company called Lydia. Now, he says, they want to be entrepreneurs.
Slowly but surely, a dynamic tech sector is emerging in Paris. Lydia's office building in the second arrondissement used to be packed with garment companies' sewing machines. Then, the tech companies came along and filled the neighborhood with whiteboards and Eames-inspired chairs. They were lured, Chiche says, by nearby fiber-optic cable.
Chiche says the latest generation of engineers look to role models like Facebook's Mark Zuckerberg, whose company happens to be a founding member of Station F. More young French people find it empowering to work for a cool company, take risks, and get paid for it. Basically, the opposite of the civil-service career path that once embodied the pinnacle of achievement for many of France's brightest minds.
Cheerleader in chief
French president Emmanuel Macron is emblematic this shift. The 39-year-old former banker and civil servant has become the country's highest-profile advocate for the startup sector. When he was economy minister, Macron was among the leaders most aggressively promoting a friendlier environment for tech companies. Although the Station F campus opened with great fanfare shortly after Macron became president, the groundwork was years in the making.
Macron has helped fintech companies in particular by making sure the regulatory rules didn't disadvantage them versus incumbent players, says Olivier Goy, founder of crowd-lending platform Lendix. He launched the company a few years ago, making it his second startup. "I have never seen this much excitement before," he notes.
French technology companies have raised a bit more than $2 billion so far this year, very nearly as much as in the whole of 2016, according to CB Insights. France narrowly edged out Germany last quarter in terms of funding.
Much of the money has gone into software ventures, according to PitchBook. (Microsoft is also a Station F partner.) Paris has ranked second for the most VC deals in Europe the past three years, and its share is expected to grow.
Still, the tech scene in Paris is much smaller than in London, and it's dwarfed by hubs in the US and Israel. Although Macron has said he wants France to become a country of licornes (unicorns), for now it only has one private startup valued at more than $1 billion: long-distance ride-sharing company BlaBlaCar, according to CrunchBase data. The UK has 10, and the US more than 100.
Some worry that Station F's approach—a single, massive space packed with startups—could actually be a disadvantage. I met with a French firm that decided not to set up there because they worried the sheer number of ambitious startups in the space would make it hard to keep their plans private.
A Brexit bonanza?
These days, Brexit comes up in just about every conversation with Parisian startups, particularly ones whose raison d'etre is fintech, which is London's specialty. The sector is among the most exuberant in the startup world—last quarter was a record for private capital raised, with $5.2 billion pouring in globally, according to CB Insights.
When it comes to starting a company, "I'm not sure there's a place in Europe that's close to London," said Maria Scott, CEO of TAINA Technology. Her company builds regulatory technology for banks and is based in Level39, London's temple for fintech. Still, she says getting access to the top talent is tough no matter where you are, and Brexit has made it even tougher on British startups.
Jonathan Chester says his company with San Francisco roots, Bitwage, planned to expand in Europe by way of London. But after the Brexit vote, he worried it wouldn't have as tight a connection with the rest of the region. He came to Paris after winning a French Tech Ticket, a startup contest that gives winners money, a work permit, and, crucially, access to an advisor who helps them navigate the country's bureaucracy. Now, his company, which uses bitcoin to facilitate international money transfers, has a space in English-friendly Station F.
Lendix's Goy said the EU-backed European Investment Fund, Europe's biggest source of venture capital, could help shift the balance of power away from London. It previously poured billions into UK venture capital funds, but the EIF has already shown signs of pulling back from British investments since the Brexit vote. Meanwhile, Paris-based Lendix recently signed a deal with the fund, demonstrating "the very symbol of Europe investing in its future," according to French economy minister Bruno Le Maire.
En marche!
Macron's endorsement of the Tech Ticket program shows he knows what the barriers are to Paris—and France—in raising its profile among startups, according to Stone Atwine, CEO of remittances company Eversend who was previously based in Uganda, another Tech Ticket winner. Startup founders also laud the so-called Macron Law, introduced when the president was economy minister, which sought to simplify hiring rules, reduce the power of professional associations in certain sectors, and much more.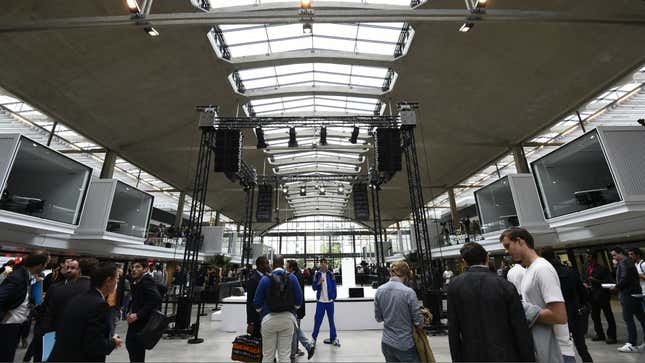 One of Macron's ultimate aims is to reduce corporate and capital gains tax rates, which could encourage more angel investors to fund companies in France, according to PitchBook. And while leaders in the US and UK have interpreted recent votes as mandates to restrict immigration, Macron is doing the opposite, hoping to attract foreign talent to accelerate progress in the country's science and tech industries.
Many of Macron's campaign ambitions are yet to be fulfilled, and success is by no means assured. French presidents before him tried and failed to reduce rigid labor protections. France's second-largest union, the CGT, is already calling for demonstrations next month.
Walking around a place like Station F, it's hard not to be pulled in by the excitement. The place fizzes with energy and optimism, despite many of the crucial details underpinning France's purported tech revival yet to take shape.
France "still feels very beta," says Chester of Bitwage, but adds that with Macron as president it's a good time to be running a startup there. He reckons Paris remains an underdog relative to London, but notes that it has one thing going for it that will surely please French officials: it now might be more advanced than Berlin.