Would you be more willing to hail an Uber if the car were owned by Uber rather than a stranger? You might assume a company would be more diligent about vehicle safety checks than an individual, after all. But as the latest scandal shows, that's not necessarily the case.
In Singapore, the ride-hailing company for years purchased vehicles from unauthorized suppliers with lax safety standards, including thousands of cars with known defects. That ultimately led to one rented Uber vehicle catching fire in January with the 61-year-old driver still inside, according to a lengthy Wall Street Journal report (paywall).
The driver was okay, but the news calls into question the competence of Uber's management at a time when the company is already embroiled in scandal. Uber has often touted that its vehicles are owned by drivers themselves. That means the cars are inspected for safety by third-party entities. In Singapore, Uber has its own cars, but it was buying unsafe ones, and it had complete knowledge of the risks involved in keeping them on the road.
The Journal reveals how after entering Singapore in 2013, Uber had difficulty attracting drivers due to the high cost of owning a car in the city-state. Car owners in Singapore pay tens of thousands of dollars to obtain the necessary ownership permit, while car purchases are taxed at over 100%. This means car ownership is typically reserved for the relatively wealthy—who are more likely to be Uber passengers than drivers.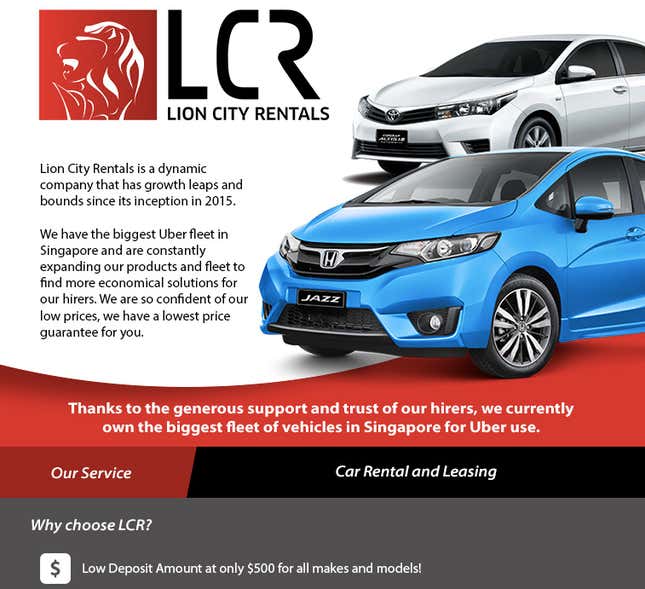 To address that problem, Uber began purchasing its own cars, with then-CEO Travis Kalanick's personal approval and an $800 million bank loan. Yet instead of buying from authorized dealers, it turned to grey market importers that offered the company savings of 12%, the Journal states. These vehicles were then rented out to Uber drivers through an Uber-owned company called Lion City Rentals. On its dressed-down website and promotional materials, LCR describes itself as an "Uber-affiliated partner," though it doesn't reveal that the company is actually Uber itself.
In April 2016, Honda issued a recall for its Vezel SUV. Days later, Uber purchased 100 of these vehicles from an unauthorized dealer known as Sunrita. It went on to buy over 1,000 of the vehicles, with the same known defect, from that supplier.
Internal emails reveal that both parties were aware of the recall, yet despite Sunrita's promises to fix the problem by August 2016—and Uber's requests to speed up the process—the cars remained on the road without the necessary repairs. After the rented SUV caught fire in January, the Singapore team did not take the vehicles off the road, noting internally the estimated costs of doing so would be about $1 million a week. It told its drivers—some of whom rent the cars out for a week and also use them for personal errands and trips—that Vezel renters must seek "immediate precautionary servicing," though it didn't specify why.
Now, Uber says all the vehicles in question have been fixed. It provided the following statement to Quartz:
"As soon as we learned of a Honda Vezel from the Lion City Rental fleet catching fire, we took swift action to fix the problem, in close coordination with Singapore's Land Transport Authority as well as technical experts. But we acknowledge we could have done more—and we have done so. We've introduced robust protocols and hired three dedicated experts in-house at LCR whose sole job is to ensure we are fully responsive to safety recalls."
Singapore's Land Transport Authority did not respond immediately to requests for comment.
Uber often touts itself as "asset light," and it typically does not own the vehicles used for its service. It's a trope critical to its pitch to investors keen to fund the world's largest "taxi-free taxi company." But in Singapore and a few other markets, including Vietnam and India, it owns and rents out cars. It also facilitates leases to drivers in parts of the United States, where it has faced scrutiny in New York City for predatory schemes.
Meanwhile, local regulators around the US are questioning how the company conducts safety checks on vehicles. Inspections are typically conducted via third parties, and by some accounts a "safety check" involves little more than owners sending pictures or videos of their cars. In Singapore, however, Uber is the car owner in many cases. If the company's own vehicles aren't safe, how can consumers feel safe about the other cars being used for the service?