The year was 1890, and a bicycle boom was underway. Its cause? The safety bicycle, a cheaper, more practical two-wheeled vehicle. This new design didn't have the impractically big wheel of a penny farthing from the 1880s, or the bumpiness of a metal wheeled peddle-less hobby horse of the 1860s.
The safety bicycle was a huge hit, and sales skyrocketed—which led some to worry they were causing insanity. In 1894, the annual report by the "Commissioners in Lunacy" to British Parliament was covered in the New York Times, the writer suggested the increase of lunacy was attributable largely to bike riding:
"There is not the slightest doubt that bicycle riding, if persisted in, leads to weakness of mind, general lunacy, and homicidal mania."
He continued, saying that men of "humane impulses and correct conduct" were "prey to that thirst for homicide which habitual bicycling so commonly produces." As for women? Their bicycle-induced insanity apparently manifested itself in their fashion sense, a common sexist concern about female riders, who had to eschew more conservative clothes for ease of movement while cycling.
A few years later a Canadian paper alluded to discussions among physicians about the influence of "the wheel" on mental capacities, citing a report of a woman going insane due to "excessive riding of the bicycle." The report was another example of prejudices against women biking.
A second report, a year later, included an illustration of a crazed woman cyclist plowing down another. It was full of venomous, sexist animosity, reporting that doctors in France were supposedly puzzled by the new mania. The piece suggested it wasn't just sartorial insanity cycling could trigger in women, but full blown psychopathy.
The writer got really, really carried away:
"The feminine cyclists are becoming extremely cruel. Medical men who have made a study of the matter are inclined to ascribe it to a form of insanity."
It became more extreme and graphic as it went on:
"The doctors also found that not only did the desire to ride down other wheel women appear, but there was plenty of additional evidence that the mania inspired a keen delight in all things savoring of cruelty."
It went so far as to suggest that female cyclists had a propensity to torture their pets "in the most frightful fashion" as a direct result of bicycle riding.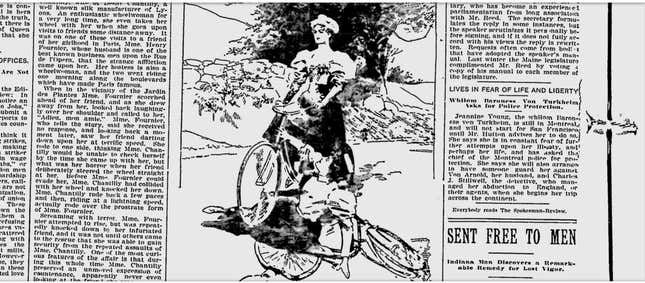 On the other hand, many also thought bicycles were healthy (just as we do today), and some even believed it could help address insanity instead of causing it. There were instances of mental asylums taking patients out on bike rides and seeing good results. The article below included numerous examples and stated, "There is no form of exercise or amusement better calculated to relieve mental tension than the bicycle."
These upsides turned out to be true. Cycling is exercise, and exercise is good for physical and mental health, but some sought to temper what they saw as bicycle hype. A writer in 1895 said of the bicycle hysteria:
"With enthusiasm keyed to concert pitch and indulgence running to excess, more ills may be bred than what are cured, and when this becomes true, cycling will receive a blighted stigma."
He added, "Cycling has acquired a reputation as a panacea for all manner of ailments" and attributed the hype to "zealots" and "sweeping claims of tradesmen." The writer seemed to backpedal a bit on his alarmism at the end of his article, saying bicycle riding was healthy for some, but remained cautious.
Three years later, one U.S. Army recruiter in Chicago decided to refuse "excessive bicycle riders" from serving, as they supposedly had "bicycle heart" and were unfit.
In many ways, bicycles were more of a precursor to the automobile than the horse and cart, because they democratized travel. Little did bike haters know then, a few decades later a much less quiet, healthy and environmentally friendly form of transportation would become as popular as the safety bicycle: automobiles. The grass is always greener.
This article was originally published on Timeline, based on an episode of Pessimists Archive podcast. Sign up to their newsletter here.