Millions of Chinese cyclists may soon be able to ditch their air-pollution masks. Dutch innovation firm Studio Roosegaarde has partnered with bike-share startup ofo to develop a new model that can collect polluted air, purify it, and release the clean air around the cyclist. Studio founder Daan Roosegaarde confirms to Quartz that the first prototype of the smog-sucking "future bike" is expected to be ready by the end of this year.
Unveiled at the TED conference in April, the "Smog Free Bicycles" are part of Roosegaarde's suite of objects to address the global air pollution crisis. Last year, he unveiled a Smog Free Tower in China that could purify 30,000 cubic meters (about 1 million cubic feet) of air every hour. The collected soot is transformed to fashion accessories—rings and cufflinks—so advocates can wear Beijing's smog as memento mori.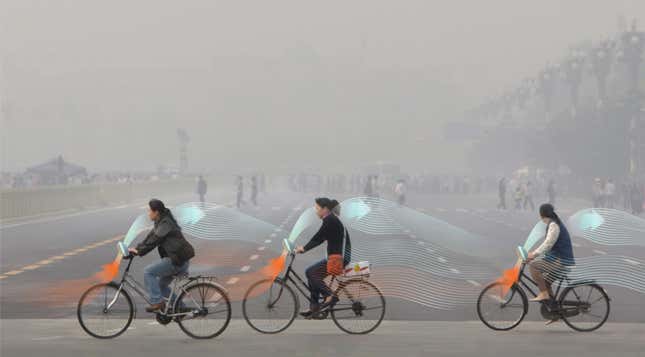 The Smog Free Bicycle had remained largely a conceptual rendering until ofo's 26-year-old CEO Da Wei formally asked Roosegaarde to partner with him when they were on stage at the Dalian World Economic Forum in May. "He puts his hand forward…he surprised me," recalls Roosegaarde. "I shook his hand and that was the beginning…That's the Chinese way."
With Beijing-based ofo's fleet of 6.5 million bikes in more than 150 cities and 3 million daily users, Roosegaarde hopes  his air-purifying bikes can have a lasting impact on ameliorating deadly air pollution around the world. "We're ambitious. This is not meant as a one-off, artistic project," he explains. "Thinking about millions and millions of these bikes, we can really have an impact on the air quality index of a city."
He has had a measure of success with Smog Free Tower. A recent study by Eindhoven University of Technology professor Bert Blocken showed that Roosegaarde's creation effectively reduced pollution up to 45% within 20 meters (65 feet).