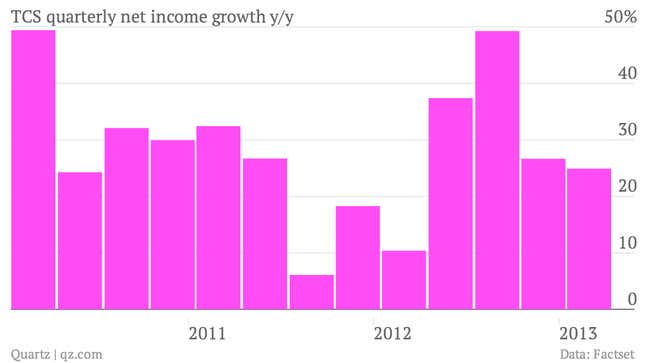 The numbers. Good. Consolidated profits at India's largest computer services exporter Tata Consultancy Services rose 16% to 38 billion rupees ($637 million) for the quarter that ended June 30, compared to the prior year. Sales jumped 21% to 179.9 billion rupees, thanks, in part, to the weakening rupee, which makes sales notched in other currencies larger in rupee terms. Results were released after the close of trading in India, but the stock has rallied over 32% this year, compared to the modest 3.6% gain for India's benchmark index.
What's interesting. There are clear signs demand for outsourcing services is picking up. The volume of business increased 6.1%, the highest in seven quarters (paywall). TCS added 10 large accounts, while smaller rival Infosys notched seven deals in the quarter.
The takeaway. TCS is bullish about its growth prospects. The management reiterated that it would beat Indian IT industry's estimated growth rate of 12-14% for the fiscal year. But the proposed new visa rules in the US could drag on profits by forcing the company to hiring more stateside employees and pay more out in wages.