Berlin, Germany
Commemorating the 30th anniversary of the death of Hitler's deputy, Rudolf Hess, hundreds of neo-Nazis marched today in Berlin.
Gathering behind a banner emblazoned with the words of Hess at the Nuremburg Trials in 1946—"I regret nothing"—around 500 white-shirted neo-Nazis were effectively enclosed by hundreds of riot police and fenced in by vans in the Spandau district in the west of Berlin. Hess, a convicted war criminal, hung himself in his cell in Spandau prison on Aug. 17, 1987; Nazi sympathizers claim he was murdered.
The far-right violence in Charlottesville in the US last week, as well as the bloody demonstrations at the G20 in Hamburg, Germany in July, meant security for the Berlin march was extremely tight. 
But Germany approaches such marches very differently. Germany has long enforced a strict ban on Nazi symbols or anything to do with glorification of the Third Reich. 
For the neo-Nazi march, one flag per 50 people was allowed, images of Rudolf Hess were forbidden, as were drums and military music. Police individually searched each marcher in a specially set-up tent before allowing them into the penned-off march area. The neo-Nazis had to cover up tattoos and they weren't even allowed to chant slogans. In a country where guns are banned, nothing more dangerous than a mobile phone was allowed on them. Whereas in Charlottesville, there were fully armed militias on the streets.
The country's constitutional right to protest and free speech means it must walk a tightrope with events such as today.  "I would have been delighted with a ban," Berlin interior senator Andreas Geisel said. "But we looked into the matter very carefully and concluded that, unfortunately, assholes also get to benefit from democratic freedoms."
Politicians, local citizens, and anti-Nazi groups had tried until the last minute to have the march banned to no avail. A 70-year-old local Spandau resident, Liliana Hortschansky, expressed her disgust that the authorities allowed the neo-Nazi march to take place. "Freedom of speech is all very well, but at some point enough is enough—it's about the content of the speech" Hortschansky told Quartz.
In the end, however, it was the 1,000 or so people in the strong, spirited counter-demonstration, who stopped the neo Nazis from reaching the site of where Hess's former prison formerly stood by blocking the road, so the police were forced to turn the neo-Nazis around, back to Spandau train station where they started.
The counter-demo was marked also by humor, with one anti-fascist banner saying, " You're the reason that aliens haven't made contact with us."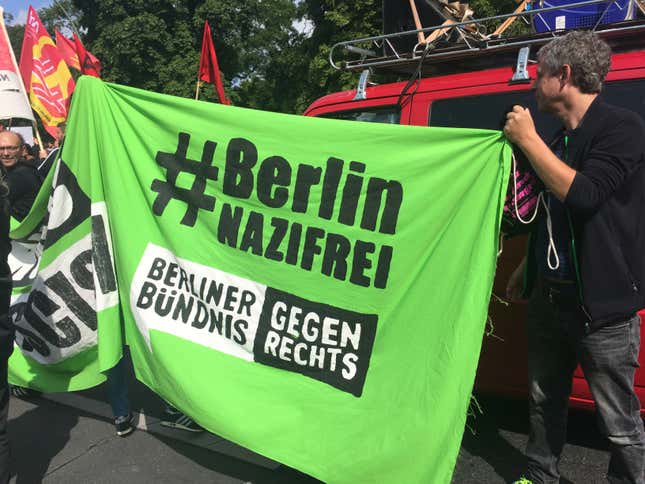 Anti-Nazi crowds chanted "Never again, Germany" and sang "We lost the war" at the gathered Nazis. One antifa demonstrator shouted "Cunts!" at the fascists, over and over again, until an elderly German woman tapped him on the shoulder and told him not to use that word. He apologized.