You've got the glasses. The playlist. Cameras at the ready. You're all set for the solar eclipse on Monday (Aug. 21)—unless, you're not. The eclipse is only due to last a handful of minutes, and another one won't swing around for several years. Here's how to double-check that your view of it will be absolutely clear.
The path of totality
The true solar eclipse will only be visible from locations within the path of totality—a 70-mile-wide path sweeping from coast to coast, touching 14 US states. (Small towns within this range have already, for days, been overwhelmed by traffic jams and swarms of visitors.)
NASA has a detailed compendium of the boundaries of the eclipse's path that you can consult if you're unsure.
If you're not standing in one of those coveted areas across the country, you'll most likely see a partial eclipse. Below is a map explaining how partial that will be, exactly—in New York, for instance, viewers will see an eclipse of about 71%. (That hasn't stopped the city from planning dozens of splendor-ridden viewing parties around the event.)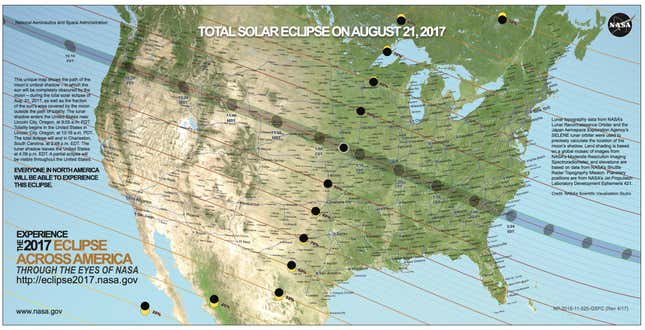 And you can use more precise resources to find the exact time and duration of the eclipse in your area.
Beware clouds
Unfortunately, it is not possible to control for weather conditions during the eclipse—a fitting reminder, second to the actual eclipse, of humanity's complete lack of power in the face of nature—but predictions show good chances of clear skies in most regions.
According to meteorologists at the Weather Channel today (Aug. 20), the Northwest region—Oregon, Idaho, Wyoming—stands to be quite cloud-free; there is a chance of thunderstorms across parts of the central Plains and upper Midwest, but conditions this time of year tend to be volatile and it's hard to pinpoint the exact affected areas of the "scattered type of thunderstorm situation."
"The toughest thing is at this time of the year, you tend to have a lot of convective weather—which means storms that pop up here and there, so it does necessarily cover the sky completely, it's sort of scattered about," Frank Giannasca, a senior Weather Channel meterologist, told NBC News.
Look up the conditions of your specific location with the Weather Channel's eclipse-mapping tool that updates in real time. Best of luck—and happy viewing.