With the sophisticated user interface and powerful system apps afforded by iOS 11, the iPad feels like it's finally reaching maturity. But what does the device's clarified identity say about the Mac's future?
The iPad is a strange animal, a chimera that has had trouble finding its place in an Aristotelian classification of computing creatures. Is it a smaller PC, a bigger phone, something else? During the Jan. 2010 iPad unveiling, Steve Jobs briefly departed from his usual razor-edged storytelling to admit ambiguity about the identity of his latest creation: "[The iPad] has to find its place between the iPhone and the Mac."
Jobs' hesitancy proved to be insightful. In fact, exceptionally so: Seven years later we're still debating what the iPad actually is. The meteoric rise followed by a three year slump didn't help clarify the iPad's place in the world.
But in the quarter ending in June 2017 (Apple's Q3, fiscal year 2017) iPad sales rebounded nicely, as documented in this Statista graph [as always, edits and emphasis mine]: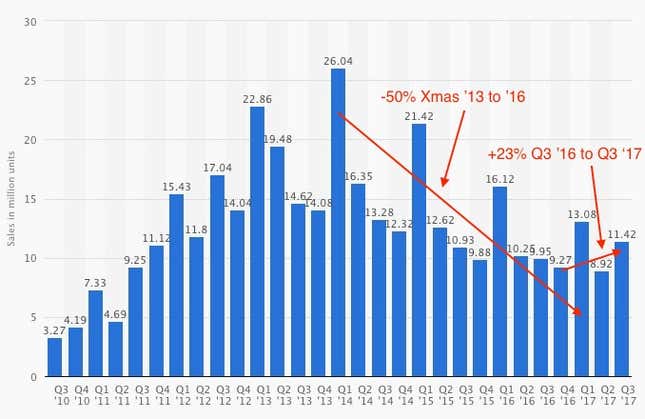 After three consecutive years of decline, iPad unit sales grew 23% compared to the same quarter last year, from 9.3 million to 11.4 million. (Apple's quarterly SEC filings show a lightly different growth rate: +15%.)
Tim Cook has long professed his faith in the iPad's future: "The iPad is the clearest expression of our vision of the future of personal computing."
Does the iPad's rebound prove him right? Does Cook's proclamation mean that the iPad is destined to replace the Mac? This question—perhaps I should say "agitation"—was raised when the iPad came out, and continues to this day.
In the Socratic spirit I referred to in last week's Monday Note, I'll take both sides of the argument…
It's abundantly clear that the iPad will continue to replace the Mac
The latest hint? Six lovingly crafted videos that promote iOS 11 features that were designed specifically for the iPad and iPad Pro: a Mac-like dock with touch user interface; a desktop-like files app; neat multi-window multitasking; the ability to scan, sign, and send a document using the camera and stylus (pardon, Apple Pencil); the Pencil again to mark up photos and documents; and, lastly, using two hands on your iPad. If you can't wait for the official iOS 11 release, you can install a public beta—it appears solid enough.
The iPad has come a long way from its no multitasking, no (exposed) file system, no multiple windows, no stylus origin. Is the new iPad a species of hybrid tablet/PC that Tim Cook once denigrated as a toaster-fridge? Yes, it is…but this isn't submissive apostasy. Only idiots never change their minds and, in the iPad's case, Apple hasn't simply grafted a touch screen and a stylus onto a legacy operating system. They've gone a step further. The six videos show how iOS has evolved to integrate more sophisticated touch, multi-hand actions, camera, and Pencil in ways that don't feel retrofitted.
(Speaking of a change of corporate mind, after Jobs called a stylus "a sign of total failure," Apple created its own version and has recently improved its response speed to give it a more natural feel.)
By offering flexible user interface choices—touch only, Smart Keyboard, and Pencil—iPad Pros will not only compete with the Mac, they'll surpass the laptop.
The iPad also wins the price war. Prices range from $329 for an entry-level 9.7" iPad to $1099 for a 512 gigabyte 12" iPad Pro. Add a keyboard and a Pencil to a fully decked 10.5" iPad Pro—it has a better screen than its larger cousin—and you'll top out at $1212. The elegant Saddle Brown leather sleeve with its convenient Pencil storage will set you back another $129.
This means that at the entry level, we're close to the defunct netbooks Apple was once admonished to offer. At the top end, we're firmly in the affordable luxury laptop space.
Although the Mac still brings in more money-per-device—the Mac's ASP of $1,303 is three times that of the iPad's $435—the company's mobile devices make it up in volume. Last quarter, Apple sold more than 55 million iOS devices (iPhones and iPads), compared to 4.3 million Macs. These far greater numbers mean leverage for the iPad: More investment in the operating system (although we should note that there are some areas of commonality with the Mac's OS X) and in hardware. Apple's AX processors, built for mobile devices, could easily power today's conventional laptops.
As hardware and software iterations broaden the range of use scenarios, the descendants of today's iPads will progressively replace the good old Macintosh.
Not so fast—the Mac isn't going away any time soon
Sure, Apple has taken far too much time to refresh its Mac line in recent years. There have been apologies for the hasty pre-announcements of the iMac Pro, now scheduled for release at the end of this year, and a hypothetical 2018 replacement for the long-in-the-tooth Mac Pro introduced in 2013. But there are a wealth of high-end applications that require what Steve Jobs famously called "trucks": Machines with no-holds-barred, unlimited thermal dissipation processors; muscular graphics chips; and lots of RAM and disk storage—an amount that the iPad will not approach in a foreseeable future.
There's also a difference in user interface philosophies. The iPad has evolved into a "3-D" device: Your hands move from screen to keyboard, and back to the screen with a Pencil in hand. For the Mac, the dogma is simpler: The hands stay horizontal, on the keyboard, Trackpad, and on some models, a Touch Bar that replaces the function keys.
And while Macs are less plentiful than iOS devices, sales aren't declining. MacBook variants and all-in-one iMacs provide a choice of well-honed machines that grew 7% from Q3 2016 to Q3 2017. It's a comfortable situation.
How do we settle the argument?
We agree with both sides.
As it becomes a more general-purpose machine, the iPad will continue to steal uses and users from the Mac. As often stated by its execs, Apple isn't worried about cannibalization. More important, the iPad's ever-improving UI and functionality will wrest users from its competitors.
This leaves the Mac line doing nicely for two disconnected reasons: High-end "truck-like" applications, and the estimable population of users who, as a matter of personal preference, opt for the traditional "horizontal-hands" UI.
For more perspective, we can look at HP, Inc., the PC-and-printers half of the former Hewlett-Packard and number one worldwide PC maker.
Last quarter's Personal Systems (PCs, laptops, workstations) revenue was $7.7 billion. For Apple, the "both sides" (Mac + iPad) revenue was $10.6 billion. One wonders what IDC, Dataquest, and other "research firms" will make of such numbers as the iPad keeps evolving.