Storyzy's business is alerting brands to their presence on fake news sites. By and large, the advertising community's response is simply appalling.
French startup Storyzy spotted six hundred forty-four brands on questionable sites ranging from hardcore hyper-partisan fake news sites to clickbait venues hosting bogus content with no particular agenda, except making a quick buck.
Storyzy showed me the list of brands that fund the fake news ecosystem, but didn't want Monday Note to publish it. Never mind. With 600+ advertisers, you can expect many household names to show up. And they do: tech companies, banks, retailers, airlines, cosmetic companies, luxury goods companies, universities, and NGOs. Reputed media brands ended up on hyper-partisan and fake news sites. As shown below, The New York Times was spotted on RealtimePolitics and The Wall Street Journal on America's Freedom Fighters: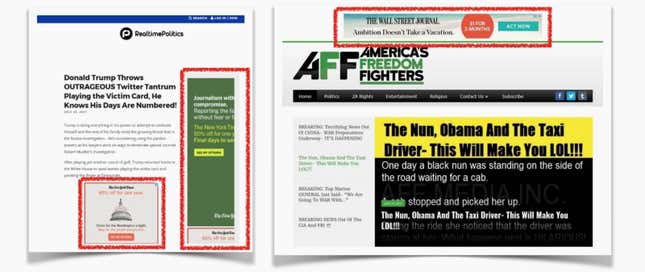 While some advertisers know and choose to turn a blind eye, most of the brands feeding the fake news industry do so completely unaware of their complicity.
In fact, they are caught in a combination of negligence and greed from media buyers and the cohort of intermediaries that rule the digital advertising sector.
The real surprise comes from the brands' reaction once they are notified. Normally, one would expect most of them to take radical measures to notify the chain of intermediaries, such as media buyers or trading desks.
To alert advertisers caught on junk or blatant fake news sites, Storyzy sends them an email with eloquent screenshots attached.
We contacted about 400 brands, says Pierre-Albert Ruquier, marketing director and co-founder of Storyzy. Reaction varies. Some clearly don't care and don't even bother to respond. The biggest advertisers usually refer us to their media buying partners. We talk to most of them, even though we are often received coldly. Weirdly enough, we are also sent to large consulting firms that advise big clients on brand safety issues. The vast majority of advertisers don't know where their ads land. Or choose to ignore it. That's why when they refer us to their media buying agency these won't budge. The reason is that almost all campaigns are ROI-based, a field dominated by behavioral targeting and retargeting.
In other words: Most of the brands don't really care where their ads show up as long as the overall return on investment is fine. "One of the world's largest hotel chains told us they don't mind showing up on questionable sites if it is the result of a retargeting process," which is a convenient way to say that, as long as they can invoke deniability, performance supersedes any damage caused to the brand, or ethical considerations such as fueling a vast network of misinformation. And if by chance the brand does care, they can't always trust intermediaries whose incentives are tied to the campaign's financial performance.
Such a combination of deniability and greed is toxic. It explains the millions of dollars that contribute to the well-being of a fake news/junk news system, one that needs not worry about survivability. (Misinformation media are, in addition, super efficient at maximizing bang for their own buck: their production costs are but a tiny fraction of those required for legit sites.)
Storyzy derived its current business from expertise in fact-checking that goes back to 2012. At the time, the startup was called Trooclick; its goal, using natural language processing and machine learning algorithms, was detecting false information in financial news.
Five years later, the initial product expanded to a more general quote verification system called Quote Verifier.
Currently, the service is available via a paid-for API (access to the web site, however, is free). This function is at the core of the company's fake news detection.
According to Ramon Ruti, CTO and co-founder of Storyzy, extracting quotes in a reliable fashion—and being able to find and properly attribute indirect quotes—is complex and requires layers of techniques: sentence splitting to detect misleading sentences boundaries like in certain acronyms; morphosyntactic analysis, to understand the nature of each word; topic and named entities extraction; reported speech extraction, for both direct and indirect speech; and other tweaks to deal with language ambiguity and newswriting imprecision.
Each day, Storyzy collects and sorts 50,000 new quotes in English lifted from 5,000 trusted and untrusted sources. The quote is a quintessential element of journalism—especially in the Anglo-Saxon world. Quotes are also the most often forged and the most hijacked items used by fake news sites. Even if a fake quote can be debunked in a matter of hours, the delay is largely sufficient for broad viral propagation on social nets. Hence the utility of the quote verifier to quickly pinpoint false information. Combined with other "signals," it proves quite effective at fingering fake news sites.
Quotes also have great value for documentation purposes. Storyzy is currently building a private website for a global media brand to be used by journalists, fact-checkers, and moderators who will verify quotes, attribution, and context; the service will be plugged on the publisher's CMS to warrant the accuracy of archived quotes.
For its brand safety-related business, Storyzy is just warming up. A few months ago, the company started to provide a list of 750 questionable websites to its customers, and more bad sites are added at a rate of 20~30 a month. Storyzy is also working on a full monitoring service to ensure brand safety—for those who are interested.
Careless advertisers and media buyers's are actually harmful to everybody:
Their negligence supports an information apparatus that is both powerful and dangerous for society at a time where democracy is globally receding.
While three-quarters of digital ad money flows to Facebook and Google, every dollar counts for legitimate news outlets which rely on an ever-shrinking slice of advertising.
The vast ecosystem of clickbait and fake news sites relies on large volumes of ads carrying ultra-low CPMs. It is a race to the bottom in terms of quality of product promotions—a race that keeps fueling the massive deflation we observed over the recent years.