Tickets for next year's World Cup in Brazil are supposed to be among the cheapest they've ever been, according to FIFA, soccer's governing body. Though prices, which were announced today, can get pretty high, local residents will be able to purchase tickets to most games for as low as 60 reals ($27).
But affordability isn't just a function of price; it also depends on how much money you have. And adjusting for average wage in the host country, tickets to this year's World Cup are arguably among the most expensive in recent times.
We looked at the cheapest ticket to the World Cup championship match in Brazil (330 reals, or $147) and the previous six host cities to determine how many hours an average local would have to work to buy a seat (using income data from the time of each tournament). By that measure, only South Africa in 2010 was more expensive.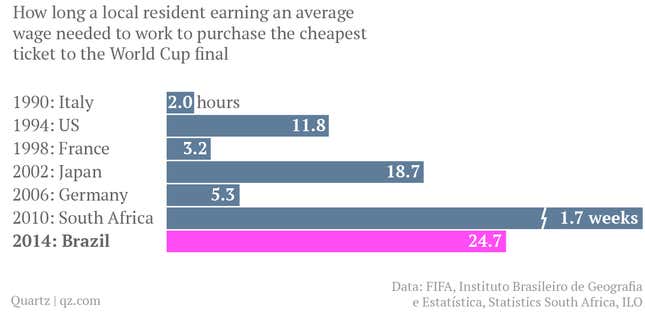 A FIFA spokesperson said that Quartz's analysis of the ticket prices "is not accurate," adding, "The ticket system has been created to provide a fair and equal chance to all Brazilians to have a chance to buy a ticket for a FIFA World Cup match."
Ticket prices are one of the most controversial issues of hosting the World Cup—and one reason why FIFA held an hour-and-a-half press conference today hashing out details of its ticket scheme. Critics charge that locals, who foot much of the bill with tax money, often can't even afford to go to the event. Last month, more than a million demonstrators in Brazil protested over the large sums being spent to host the tournament rather than on services for the general public.
That's one reason why officials promised to donate as many as 100,000 tickets to poor and indigenous communities in Brazil as well as to the construction workers who built the stadiums. They are offering a 50% discount to students and the elderly, meaning some seats will be available for as low as 30 reals (about $14). FIFA said that price was the cheapest of any World Cup tickets offered since 1990.