A man who's bragged about assaulting women lumbers menacingly close on live national television. You're trying explain something to the audience. What was the question again?
In an MSNBC video excerpt of her new book, What Happened, Hillary Clinton reads a passage about her second debate with now US president Donald Trump. The Democratic nominee says she still has a few regrets about the October debate, in which Trump physically owned the stage, and she let him.
"Maybe I have over-learned the lesson of staying calm, biting my tongue, digging my fingernails into a clenched fist," Clinton writes, "Smiling all the while, determined to present a composed face to the world."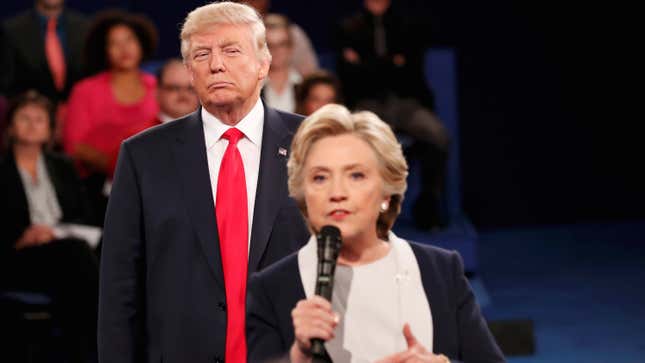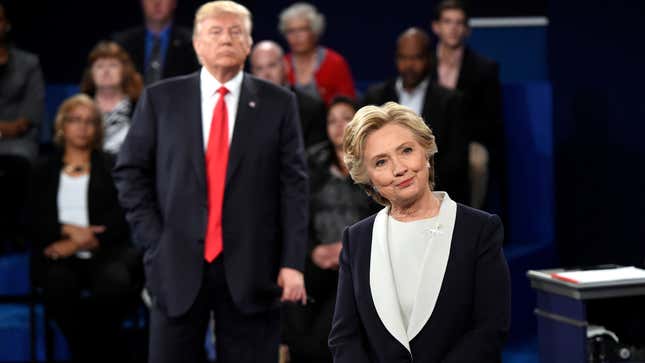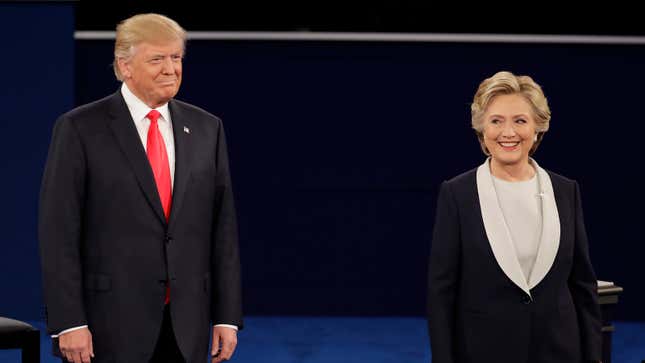 The Oct. 9 debate, at Washington University in St. Louis, Missouri, took place days after The Washington Post released a 2005 tape of Trump boasting about grabbing women "by the pussy." At the debate Trump called the conversation "locker-room talk," and also said he would criminally prosecute Clinton if he won and that he wouldn't condemn Russia for hacking the US election.
As Clinton spoke, Trump loomed over her, dominating the stage. Clinton responded by staying in her designated space, with a tight, forcibly placid look on her face. "It was incredibly uncomfortable," Clinton says now in her book. "He was literally breathing down my neck. My skin crawled."
Having reflected on the entire campaign, says Clinton, she's ambivalent about the way she responded at this debate. "Well, what would you do? Do you stay calm, keep smiling and carry on as if he weren't repeatedly invading your space?" she reads. "Or do you turn, look him in the eye, and say loudly and clearly, 'Back up you creep. Get away from me'?"
The passage is a clear appeal to the women who supported her. And Clinton's reaction is relatable to anyone who has been harassed or intimidated—even if it wasn't live in front of the entire country—and didn't immediately react. Her obsession over the details; the anxiety over what she should have done or said; the shame of her helplessness in the moment; the retroactive conjuring of the perfect zinger; puzzling over whom calmness is really for.
What Happened comes out Sept. 12 from Simon & Schuster.