Global fervor for reggaeton-pop song "Despacito" has escalated rather rápidamente. The track simmered under the radar for a bit when it was released in January of this year; by early summer, however, Luis Fonsi and Daddy Yankee's hit found itself floating airily up to the top of charts around the world, where it has remained firmly lodged ever since.
Today, "Despacito" will get a shot for recognition at the MTV Video Music Awards, long heralded as the most important celebration every year for fresh new hits—even though the song had to fight to get in the door—cementing its remarkable influence. For a Spanish-language tune to become the anthem of a summer in the US, not to mention the most-viewed YouTube video in the world of all time (and the fastest to get there, at that) is pretty unusual.
But in several quiet ways, "Despacito" already had all the stars aligned.
Technical mastery
While the three-and-a-half minute track belongs to a new wave of crossover genres, its core sound is decidedly familiar. That's because "Despacito" borrows a chord progression from a litany of pop music before it. The infamous "four chords" of pop music are I, IV, V, and vi; guess what the chord progression on Fonsi's song is? vi-IV-I-IV. As Vulture notes, this particular progression—which has appeared in everything from Taylor Swift to Bon Jovi—generates a sense of "suspense and unresolvedness," emotions that reliably draw listeners in and keep them enthralled till the end.
The Bieber boost
The version that has made it to the top of YouTube's charts is Fonsi and Daddy Yankee's original, but its ultra-radio-friendly remix with pop star Justin Bieber certainly didn't hurt in skyrocketing it to the tops of teenagers' playlists. Bieber, who sings in English at the beginning of the track, adds an element of comforting familiarity into the song for US fans. While blatantly obvious, the same formula's been used by pop stars—and hip-hop stars, and sometimes in rock and alternative genres as well—forever: [catchy new tune from near-breakout artists] + [cameo from an established big-name star] = wild success.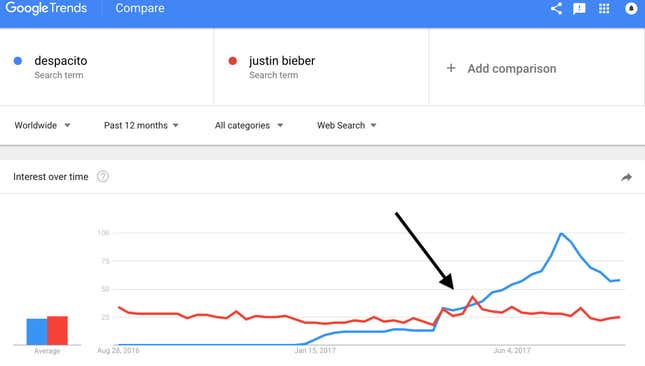 But the lure of the song goes far beyond Bieber alone.
A lucky "Latin" moment?
Popular entertainment, lest it become utterly stale, always goes through phases—and right now it's in what has been described as a "tropical" groove, with Latin culture on the rise in everything from Hollywood films and zumba, the fitness trend based on Latin rhythms. The music industry is particularly seeing a revival in the early-2000s craze for Latin artists like Shakira, Jennifer Lopez, Ricky Martin, and Enrique Iglesias. Annual revenue for Latin musical artists grew in the US last year for the first time since 2005 because of streaming.
Newer musicians like Luis Fonsi and Daddy Yankee—who are both Puerto Rican, and have infused "Despacito" with their home country's lingo and signature rhythms—are stepping into their shoes. (Justin Bieber is 100% Canadian, but hey, the man is trying.) Already, there are other "Despacitos" cropping up. Colombian artist J Balvin's "Mi Gente" has been at the top of Spotify's charts for weeks now.