Archaeologists working in southeastern China said this week they have identified the tomb of Tang Xianzu, a renowned late 16th-century playwright who is often dubbed the country's Shakespeare.
Known for his defiance of nobles in the Ming dynasty, Tang specialized in exploring the triumph of humanity over hierarchy and authority through works like The Peony Pavilion, which depicted a poor scholar's love for a noblewoman. In the 55-scene drama, Tang portrays the struggles of a relationship imbued with supernatural power—a young woman is brought back to life by the handsome scholar she had fallen in love with in a dream. The woman's father, a nobleman, accuses the scholar of being a grave robber (link in Chinese) and has him imprisoned. Fortunately, in a theme that must still resonate today, the scholar is pardoned after securing excellent results in an imperial examination.
Tang died at the age of 66 in 1616, the same year that saw the death of English playwright William Shakespeare, and was buried in his hometown in China's Jiangxi province. The Jiangxi cultural relics and archaeology department embarked on the excavation of the Tang family graveyard in May. Experts from the institute identified Tang's tomb through the gravestones and the top stone on the sarcophagus, both of which had carvings that referred to Tang's nickname—Mr. Yuming. (Tang titled his study "Yuming Hall."  Yuming is also the name of a camellia flower with snow-white blossoms and evergreen leaves that symbolizes integrity in Chinese culture.) The institute has so far identified a total of 42 tombs, including those from Tang's first and second wives.
Tang's tomb suffered devastating destruction in the Cultural Revolution, a decade long political movement that began in 1966 and plunged the country into a chaos during which many historic sites were ransacked. As a result, not a single bone or relic was found in the tomb, said (link in Chinese) Wang Shanghai, who led the archaeology project.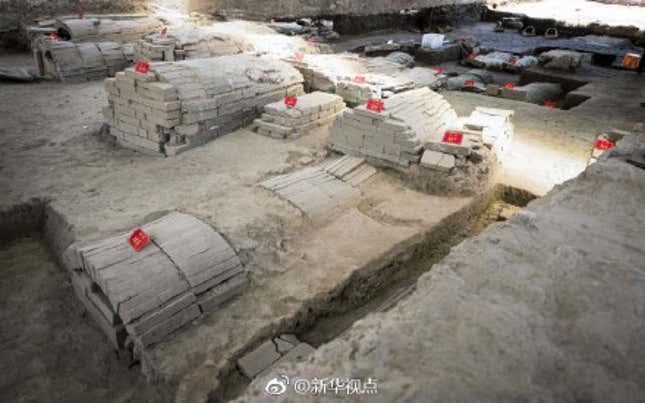 Tang's works are still beloved by many. In August last year, the 400th anniversary of both Shakespeare and Tang's deaths, a local art group from China's southeastern Fujian province adapted The Peony Pavilion and made it into a musical (link in Chinese). China's president Xi Jinping also described Tang as "Shakespeare of the East" during a state visit to the UK in 2015.