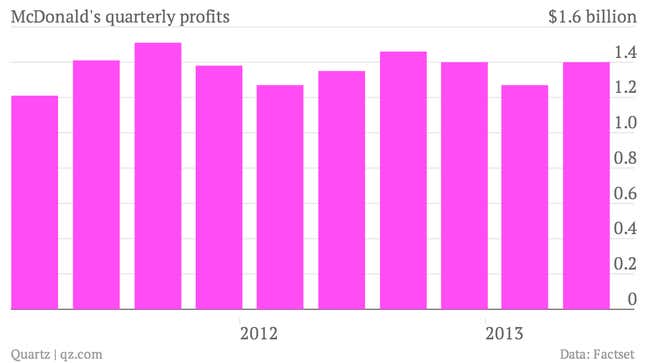 The numbers: Disappointing. Revenues rose 2.4% to $7.08 billion. McDonald's profits increased 3.7% to $1.4 billion. But both came in below analyst expectations. Global same sale stores, however rose 1%—although same store sales in Europe and the Asia/Pacific, Middle East and Africa region fell .1% and .3%, respectively. McDonald's shares were down nearly 3% in premarket trading, and tumbled another nearly 2% in early morning trading.
The takeaway: McDonald's numbers were flat numbers across the board, but its sales in the US, the company's biggest market, were particularly bad. Same store stores in the US, which were expected to come in 1.5% above those from last year, instead rose only 1%. Despite numerous attempts to reinvigorate its business—and particularly its cheapest offerings—with new items and beefed up marketing efforts, McDonald's remains reserved about the future. CEO Don Thompson said in the company's earnings press release this morning that, "based on recent sales trends, our results for the remainder of the year are expected to remain challenged." He added that, "While our consolidated results this quarter were positive, global comparable sales for July are expected to be relatively flat."
What's interesting: Americans are eating at home more, and that's bad news for McDonald's. The fast food giant has been banking heavily on the success of its "value menus," which roughly 77% of its customers order, but it seems that even its dollar menu-devoted customers are skipping out. The dine-out industry has been hurting during the economic downturn. CFO Pete Bensen addressed the issue in the morning earnings call: "The grocery store is a competitor." McDonald's pricing isn't just competing with the likes of Burger King and Wendy's, but supermarkets, too.