"Burqas? We like bikinis."
"New Germans? We can make them ourselves."
"Islam doesn't fit with our cuisine."
These are just a few of the campaign posters—accompanied by images of scantily clad women, pregnant women, and piglets, respectively—by Germany's far-right Alternativ für Deutschland (AfD) party.
The ads have been criticized as rascist, sexist, and Islamaphobic, but they are tailored to speak to the populist party's base. Addressing anger about refugees, the AfD, currently polling at around 10% ahead of elections this month, has made anti-migrant messages the core of its campaign.
With just over three weeks to go to until Germany votes, the AfD is ramping up its online offensive. According to Der Spiegel, the party has engaged the services of Texas-based Harris Media, which has worked with Britain's UKIP, Israel's LIKUD, Ted Cruz, and Donald Trump's campaign during the Republican primaries.
In 2014, Bloomberg called agency founder Vincent Harris "the man who invented the Republican internet." The Christian conservative started the agency in his college dorm in 2008.
In Germany, the agency's main remit will reportedly be helping with digital strategy. The launch ad for its internet campaign is based around the message that Merkel's refugee policies encourage terrorism, with the slogan "The tracks left by the world chancellor in Europe" emblazoned above blood-speckled statistics of recent terror attacks in European cities.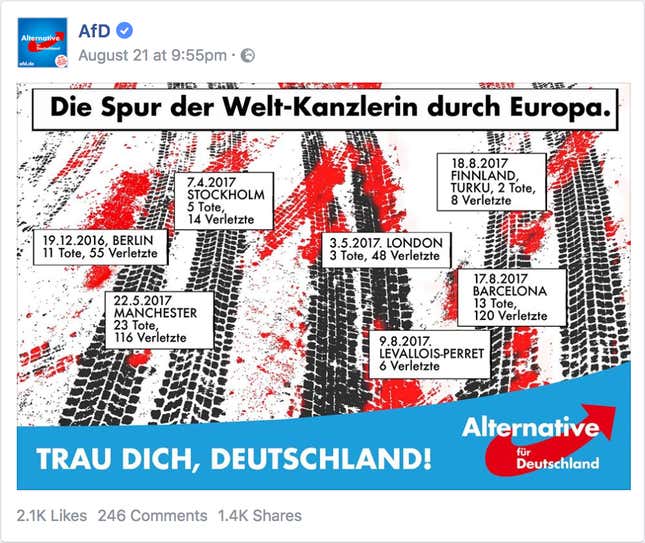 Spiegel says that Harris recently visited the AfD headquarters in Berlin in person, where there are three Harris Media employees working on the campaign at the moment. The AfD reportedly rejected a suggestion that it use "Germany for Germans" as a slogan, given the country's uncomfortable history with such explicit nationalism.