When you stay at a five-star hotel, you don't expect to worry about fresh, clean sheets. You'd only expect the best services money can buy. But five international hotels in Beijing have called those standards into question, after a video revealed unchanged bed linen and dirty toilets.
A self-proclaimed independent team, Lanmei Test, released a video of its investigation into five international hotels, rated five-star—Intercontinental, Hilton, Shangri-La, and JW Marriott and its subsidiary W Hotels, yesterday (Sept.4). It showed concerning hygiene conditions in their Beijing outlets. The video went viral on China's social media, such as WeChat and Weibo, within hours of its release.
The team recorded checking-in to the same hotel rooms, across two consecutive days, at each of the five hotels. On the first day, they used invisible stamps that only showed under UV lights to mark the bathtubs, toilets, tumblers, and bed linen, which includes bed sheets, quilt covers, and pillow cases. The team returned on the second day and examined the marks.
In the 6-minute video (with English subtitles), one of the investigators said the stamps could be washed away with just water. However, when the team presented the results from a hotel room in one of Hilton's Beijing outlets, the situation was pretty disturbing. In one long take, the team showed how the bed linen hadn't been changed and even the toilet seats or bathtub hadn't been wiped down.
But it's unclear when the video was shot, as there are no time marks on the footage. Lanmei said the investigation was a follow-up of another exposé in September last year, when investigators from Inside Edition, a US-based media outlet found that nine hotel rooms in New York didn't change their bedsheets using the same technique. Lanmei did not immediately respond to requests for comment from Quartz.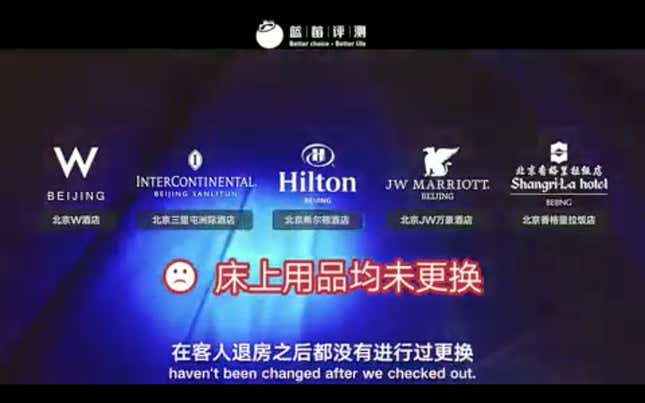 Meanwhile, Intercontinental Beijing launched an investigation to verify the video. It said "sampled records showed that the number of changed bed linens matched the number of cleaned hotel rooms everyday," according to a statement from the hotel to Quartz.
The JW Marriott is also conducting an internal investigation and are "requiring all housekeeping associates" to complete refreshing training on room cleaning procedures by Sept. 15, according to the hotel's statement to Quartz. Hilton didn't immediately respond to requests for comments from Quartz.
Shangri-La said it is conducting an investigation into the report, and that the video did not reflect the hotel's "high standards," according to the hotel's statement to Quartz on Sept. 7.
The hotel industry has been growing fast but the problems like poor hygiene management is also a concern for some (link in Chinese). Today, Beijing's local hygiene officials fined 35 local express chain hotels with a total of 69,000 yuan ($10,531) for failing to meet hygiene standards (link in Chinese). The Beijing Tourism Development Committee said it would "strengthen supervision (link in Chinese)" on the management of both star-rated hotels and budget hotels, after a meeting with the five international hotels today.
On Weibo, many are livid. "I suggest the customers form an alliance for people to leave these invisible marks so the next customer could do self-checks," commented one user. "It looks like the first thing I should do after checking in is to ask for replacing the bed linen," another (links in Chinese) commented.
The piece has been updated with response from Shangri-La on Sept. 7.