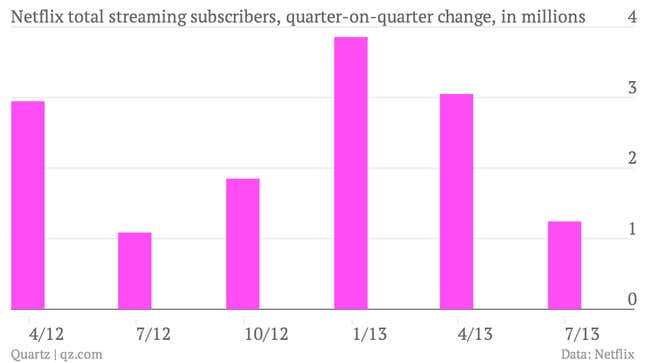 The numbers: The earnings were OK. Video streaming service Netflix reported earnings per share of $0.49, which beat analyst estimations. Its revenue of $1.07 billion was in line with expectations. But its subscriber growth was disappointing, sending shares down by about 6% in after-hours trading.
The takeaway: Expectations were high for Netflix, given its push into original content that created the popular political drama, House of Cards, which recently received major Emmy nominations. But the company added only about 630,000 new subscribers for its streaming service in the US, while some analysts expected Netflix to hit the 700,000 mark. Globally, including the US, Netflix added 1.2 million new subscribers.
What's interesting: Netflix shares had been flying high so far this year, giving the company one of the richest valuations on the stock market. With today's disappointing news, the company 's valuation could come back down to earth.