In a country faced with a crippling labor shortage, Japanese homemakers are now a hot commodity.
McDonald's Japan announced on Sept. 5 (link in Japanese) it is beginning a two-month recruitment drive (link in Japanese) targeted at housewives under a slogan that roughly translates as "McDonald's, no problem," promising new hires both flexibility and good growth prospects. Prospective candidates who are concerned about returning to work after a hiatus will be able to experience what it's like to work there by signing up online for half-hour trial sessions at various branches across the country and having a spin at making burgers and drinks, the fast-food chain offered. McDonald's Japan said that students currently account (link in Japanese) for about half of its workforce while about 20% are recruited from homemakers. "Housewives are a valued labor force because they are very hospitable and are very conscious of cleanliness in our restaurants," a McDonald's human resources executive said.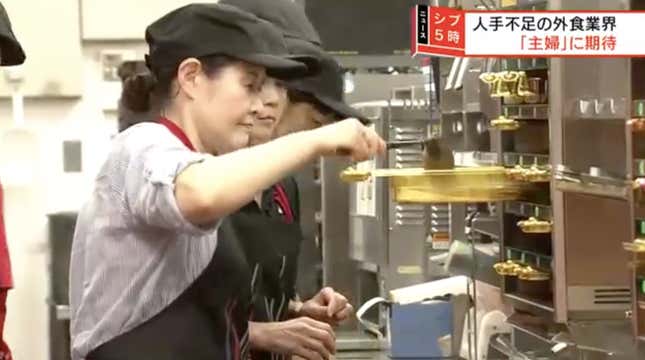 McDonald's Japan isn't the only company clamoring after these women—in Japan homemakers are almost invariably women—to fill jobs in a labor market that is at its tightest in over four decades. With a shrinking population and few foreign workers, many other companies like convenience store operators and chain restaurants are also looking to Japan's under-employed females to fill the gaps, especially for part-time work.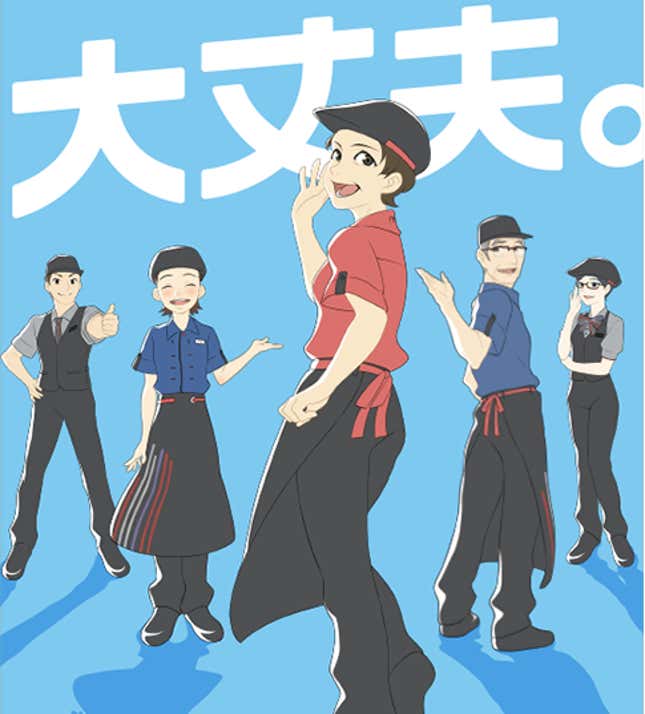 FamilyMart, one of Japan's biggest chain of convenience stores, said in July it plans to hire 100,000 housewives for part-time jobs over the next two years  as the array of services offered by convenience stores in Japan has expanded to rapidly, for example to include storing personal deliveries for pick-up, the company told Reuters.
On the recruitment page (link in Japanese) of Pronto, a large chain of restaurants and cafes in Japan, a banner reads, "Support hardworking housewives!" and says the company welcomes both housewives and househusbands to work there.
The percentage of Japanese women in the workforce experiences a sharp drop once women enter their 30s, according to OECD data, from 80% at age 29 to just over 71% from the ages of 30 to 39. For restaurants and shops looking for part-time workers, Japanese women looking to ease their way back into the workforce after a protracted absence seems to be a natural fit. One 55-year-old homemaker from Tokyo who participated in one of McDonald's trial sessions told the Mainichi newspaper (link in Japanese), "I quit my job after I had a child, and I felt uncomfortable about working again because I have a long blank in my career. I think I can do this because the manual was easy to understand and the training was good."
Getting more women to participate in the workforce has been a central tenet of prime minister Shinzo Abe's "Abenomics" plan to revive the economy—and it's worked. In the nearly four-and-a-half years that Abe has been in office, the percentage of women aged between 15 to 64 in the workforce has increased by more than one percentage point each year. In the 10 years prior, the average increase was less than half a percent. Japan's female labor market participation rate has surpassed that of the US, and is "no longer low compared to other advanced countries," according to Capital Economics, a research firm.
One of the biggest reasons holding back Japanese women from going back to work after having a child is the dearth of childcare facilities in the country, a problem that the Abe government has repeatedly resolved to fix. Another convenience store operator, 7-Eleven Japan, said last month (link in Japanese) it plans to open on-site childcare facilities in two locations in Tokyo and Hiroshima to make it easier to recruit female workers.
While the growing participation of females in Japan's workforce is one indication of Abenomics' success, the fact remains that compared to men, women are still more likely to take up part-time and low-paying work—Japan had the second-worst gender pay disparity among OECD countries in 2015, after South Korea. Women still have a long way to go in Japan.