You may have bottles of ketchup in your fridge older than new chief financial officer of Kraft Heinz.
David Knopf, 29, will assume the role Oct. 1, the company said today (Sept. 8), making him the youngest CFO to lead one of the US's largest companies.  (The next youngest, at 27, is Andrew Power of Digital Realty, according to research from Crist Kolder, an executive search firm.)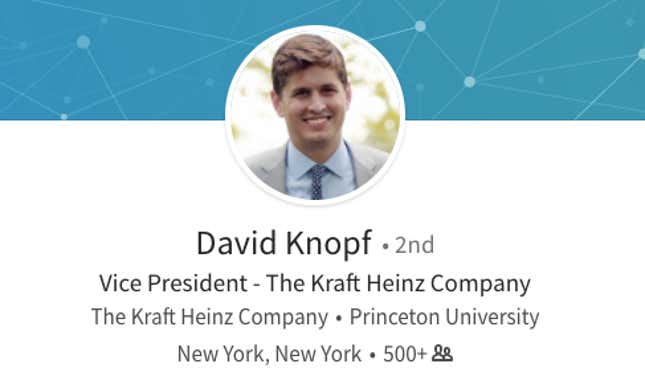 While we've grown used to seeing baby-faced founders and chief executives at tech firms—Facebook's Mark Zuckerberg is only 33, and Evan Spiegel, CEO of SNAP, is just 27—it's less common for a company to hand over the head of financial operations to someone so young. The average CFO of a Fortune 500 or S&P 500 company is 52, according to Crist Kolder—in part because the CFO is often the company's liaison to investors, who want to see a wise head manning the store.
But Kraft Heinz isn't a typical business. The food giant was created in 2015 through the merger of two venerable American companies in a deal engineered by Warren Buffett's Berkshire Hathaway and 3G Capital, a Brazilian private equity firm which also controls the world's largest brewer, Anheuser-Busch InBev. 3G Capital, where Knopf is also a partner, isn't afraid of youth and has handed young executives plum roles before: Daniel Schwartz was just 32 when he was named CEO of Burger King, also controlled by 3G, and the restaurant business's CFO also took the job in his 20s, according to Bloomberg.
Knopf may be young, but his resume is already burnished: After graduating Princeton in 2010, he spent two years at Goldman Sachs before moving into the world of private equity. Now he'll be facing a bigger challenge: reviving sales at the sluggish Kraft Heinz.  Now that he's in part responsible for getting Americans to buy more Velveeta cheese and Jell-O, his rapid ascent may decelerate slightly.