Hurricane Irma is currently ravaging the west coast of Florida, on track toward Tampa, as a nearly 400-mile wide category 2 storm.
The storm made a second landfall as a category 3 storm on Marco Island at 3:35 pm ET Sunday, after making initial landfall at Cudjoe Key (20 miles from Key West) at 9 am ET Saturday morning. Marco Island saw sustained winds of over 100 mph with gusts up to 130 mph.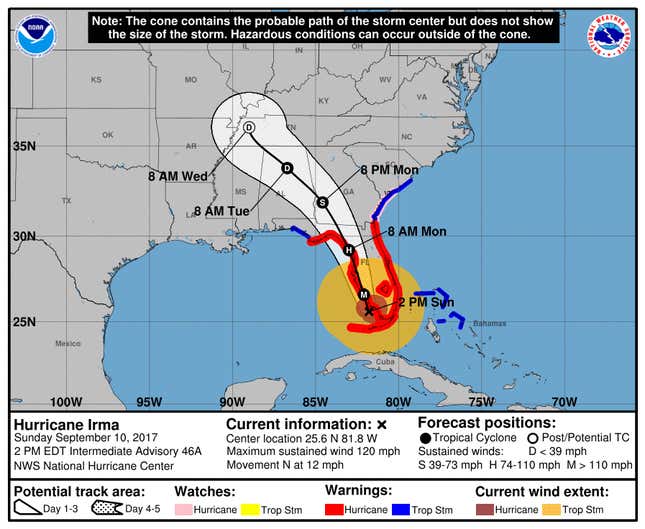 The storm is expected to maintain its current track as it travels up the western Florida coast to Naples, with wind gusts of up to 142 mph, and Fort Myers, where the storm surge could reach 15 feet.
The wind is expected to slow to 115 mph by the time it reaches Tampa Sunday night into early Monday morning. The Tampa area has not had a direct hit from a hurricane since 1921 and is uniquely vulnerable to a deadly storm surge.
On the other side of the state, Miami and the entire east coast up through at least St. Augustine are experiencing severe flooding. Of the 20 to 25 construction cranes in Miami, two have collapsed.
Over 2.5 million people are currently without power in Florida. The death toll, which totals 25 since Irma began her destructive tour of the Caribbean, includes three deaths in Florida. Irma is expected to move over north Florida and into Georgia on Monday afternoon.