Amazon has announced that it's juggling a bunch of criteria in assessing the best location for a second headquarters after Seattle. But when you start crunching the numbers on its criteria for HQ2, it quickly becomes clear that two of the hardest of Amazon's requirements to reconcile are low cost of doing business and availability of public transportation.
The criteria also lead you to the Mountain West region of the US.
In order to assess which cities fit Amazon's desires, we collected data on how each US city ranks based on the company's very specific criterion. We started by looking at air travel, which Amazon says is an "important consideration" in choosing a city. HQ2 needs access to direct flights to Seattle, New York, San Francisco and Washington DC. According to a Quartz analysis of data from PlaneStats.com, an aviation-data platform run by consulting firm Oliver Wyman, from August 2016 to August 2017, that only described 28 non-Seattle cities in North America.
Though cities are already lining up to make their bids, this narrow list makes clear that not a lot actually have a shot.
The rankings reveal it will be tough for Amazon to meet its goal of locating the new headquarters in a place with strong public transit, as well as low costs of doing business. Among the cities we analyzed, these characteristics are inversely correlated. Raleigh/Durham, Salt Lake City, and Atlanta all rank well in terms of doing business, but relatively poorly in terms of transit. (Toronto was eliminated entirely for lack of data.)
The following are the criteria we included and the source of our data:
Capital and operation costs based on Forbes' "Doing Business" ranking.
Labor force based on WalletHub's "Most and least educated cities" ranking.
Community and quality of life based on US News & World Report's "Quality of life" ranking.
Logistics based on the University of Minnesota's transit accessibility ranking.
Strong university system based on number of top 300 US News & World Report universities within 50 miles of the city.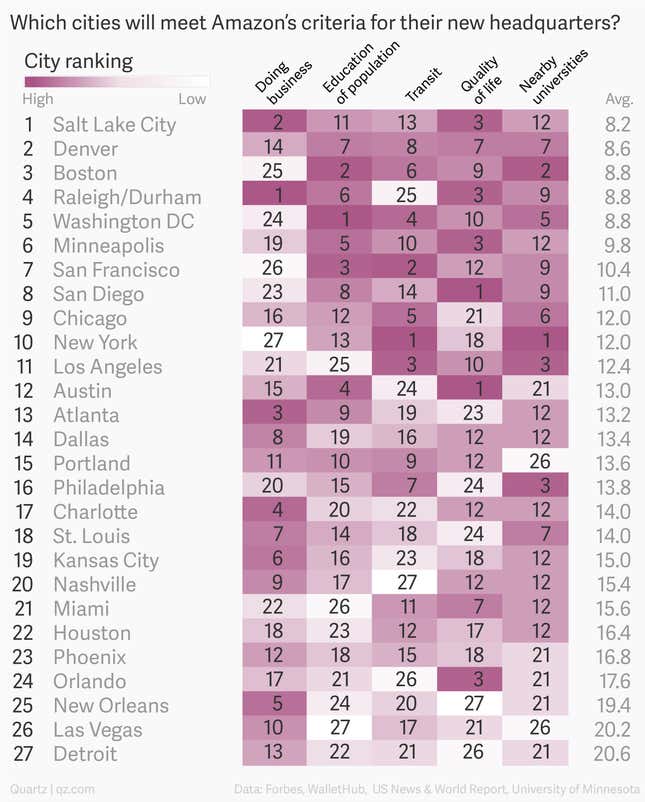 Our rankings suggest Amazon is likely to seriously consider locating HQ2 in the Mountain West. Salt Lake City, Utah and Denver, Colorado, two quickly growing cities with burgeoning technology industries, are numbers one and two on our list. The strength of Salt Lake City and Denver lies in having no weaknesses. They are the only cities to rank in the top 15 in all five categories. Boston, which performs excellently in four of the categories, comes in third because it is a very expensive place to do business.
Of course, if Amazon is willing to invest in building out transit infrastructure the entire algorithm could shift, and we'd likely have a new recommendation for the company. Raleigh/Durham, with its educated populace, low cost of doing business, and excellent quality of life, would be a strong contender.