Remember 2015, when men fell in love with the rose gold iPhone 6s? The soft metallic pink model made up nearly 40% of preorders. Guys dubbed it "bros' gold." They waited in line to get one. "The second I saw the rose-gold finish I had to get it," Jose Enrique, 26, told Bloomberg. When Apple released the iPhone 7, it came in rose gold, too.
Not the iPhone 8.
The device Apple unveiled today (Sept. 12) comes in three colors: silver, gold, and "space grey." The gold retains a rosy hue but make no mistake: It is not rose gold. It is also not really gold?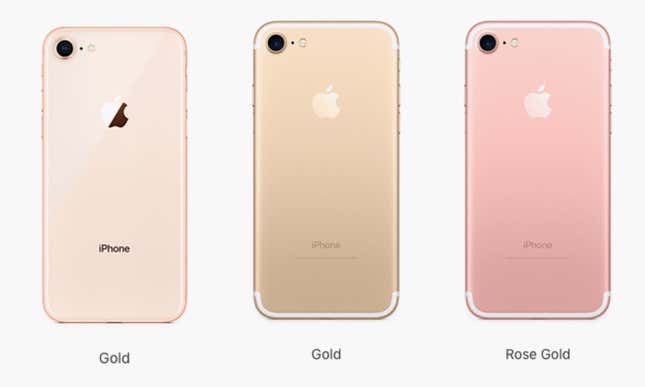 The new "gold" iPhone is color-wise somewhere between the gold and rose gold finishes of the iPhone 7, but it is not a true rose gold, just as rosé isn't made from mixing red and white wines. This is not the "Kim Kardashian" pink that men lined up for, that was, to quote Bobby Evans of Los Angeles from 2015, "a little bit girly but I like it."
Let us not forget the wise words of Jack, described by Recode as "an older man" on line in San Francisco during the iPhone 6s debut. "Rose gold or bust," he said.
We agree, Jack. Rose—bros' gold—or bust.