Runners in London are different than runners in New York City.
In the British capital, a lot of commuters run to and from work, which means they run early in the morning or later at night, often in rainy weather. Runners in the Big Apple tend to be more intense: they go for longer, faster runs on the city's concrete grid.
To better serve their customers, Adidas' designers traveled to various cities, Paris, Los Angeles, Shanghai, and Tokyo (as well as London and New York), to hear directly from the runners themselves. They learned about their routines, hooked the runners up to sensors, analyzed their gaits with motion capture, and discussed how to translate their needs into a shoe.
They discovered that runners in New York need shoes with more cushioning in their middle or forefoot where they tend to hit in their stride. Runners in London needed shoes that were reflective, easily visible, and not all white.
Now, Adidas is launching a new sneaker called the AM4LDN—"Adidas made for London"— on Oct. 19; it's the first in a series of sneakers designed and manufactured for those cities. A sneaker for Paris, the AM4PAR, will follow the week after, and shoes for the other cities will release in 2018.
What made them possible is Speedfactory, Adidas' state-of-the-art robotic factory in Ansbach, Germany. Before, it just wasn't viable to make a small batch of a shoe, given that development is a costly and lengthy process. "Typically what we would do is wait till we have, you know, 50,000 or 100,000 pairs of a project ready, and then launch it," says James Carnes, Adidas' vice president of global brand strategy. "That was the old way."
Thanks to years of work digitizing its supply chain and rethinking the way it makes footwear, Adidas says it can now create small runs of unique shoes tailored to the needs of individuals. Ultimately, this aims to upend the economics that have defined the sneaker industry for decades. The new shoes are just a first step in a much bigger race.
The need for speed
Adidas' new, city-specific sneakers are basically a learning experiment in developing products tailored to small groups, rather than the mass market.
"It was us trying to figure out how to do this best," says Zach Coonrod, a designer on Adidas' future team, which tries to look three to seven years ahead to help chart where the company should be headed. "We hadn't done it before. Speedfactory obviously enables us to have the conversation much closer to production, which is why in the same year that I get talking with somebody about the product, [I can] come back, make the changes, get it into production, keep tweaking it."
Usually, it would take 12 to 18 months to bring a new sneaker from concept to finished product. Just to manufacture a shoe, brands generally rely on a series of specialized factories spread around different cities or even different countries in Asia. One factory might produce the outsole, which is the part that comes in direct contact with the ground. A separate factory would create the midsole, which is often made of a different material, such as a springy foam. Still another factory produces the soft upper that you lace up around your foot, and so on. For the new sneaker to be economically viable, Adidas would have to make tens of thousands of them.
Speedfactory shifts that model by concentrating most of the supply chain in one location, in the same region where Adidas will ultimately sell the shoes. This new paradigm strips a lot of the complexity of conventional manufacturing out of the equation, allowing Adidas to quickly create small batches of new products and test them out with consumers. It's also almost entirely automated.
Adidas hasn't said how much money it has invested in building Speedfactory. Part of the cost is shared by its partner, Oechsler, a German specialist in injection molding that helped Adidas create the machines and production lines. An Adidas spokesperson points out that in 2016 the company spent €164 million (about $173 million at the time) on R&D, and Speedfactory falls into that bucket. It's a sharp increase over its R&D costs in previous years (pdf, p. 75).
According to Manik Aryapadi, a principal in the retail practice of A.T. Kearney, a global strategy and management consulting firm, no other company in footwear or apparel is pioneering automation and other leading-edge manufacturing methods at quite the same level as Adidas.
"Adidas is at the cutting edge of this," he says. "There are folks that are experimenting in that space, but I think Adidas is almost like a shining example in how they've embraced it."
The London shoes are only the second batch of products made in Speedfactory to hit stores. The Futurecraft MFG, as in "Made for Germany," was the first in September 2016; only 500 shoes were released in Germany as part of that initial pilot. They cost €250 (about $282 at the time), though Adidas said it hoped to bring that price down as it scaled up production.
Adidas hasn't said what the AM4LDN will cost yet, and it isn't saying how many of the AM4 series it will release. But they'll likely be small runs that will sell out quickly. The AM4LDN will be available at the brand's Oxford Street flagship, and on the brand's website. (Online sales won't be limited to London residents.) The AM4PAR goes on sale at Adidas' Champs-Élysées store on Oct. 26 and also online.
Premium sneakers thrive on scarcity, and volume isn't the point of the AM4 series anyway. Adidas wants to build excitement and show off what it can do.
"The capabilities we're building and trying to build are geared toward lot size one," says Michael Voegele, the company's CIO, meaning that Adidas could use Speedfactory to make a unique shoe for just one consumer. "But the way we are choosing to go to market is more on a community level, and on a group level that has specific requirements."
Whether these requirements vary enough that shoppers will choose Adidas' small-batch shoes instead of more mass-produced ones remains to be seen. Plenty of athletic footwear already caters to different groups, such as runners who underpronate or overpronate.
None of these shoes will likely come cheap either. Even if Adidas reaches a point where it can make shoes customized for individual buyers, they might cost more than the casual consumer is willing to spend. Though for athletes with particular needs, the cost could be worth it.
In total, Adidas plans to produce 500,000 pairs of shoes each year at its Ansbach factory. It's also building a new Speedfactory in Atlanta that will similarly crank out 500,000 sneakers a year once it's fully functional, though that one won't use automation as heavily.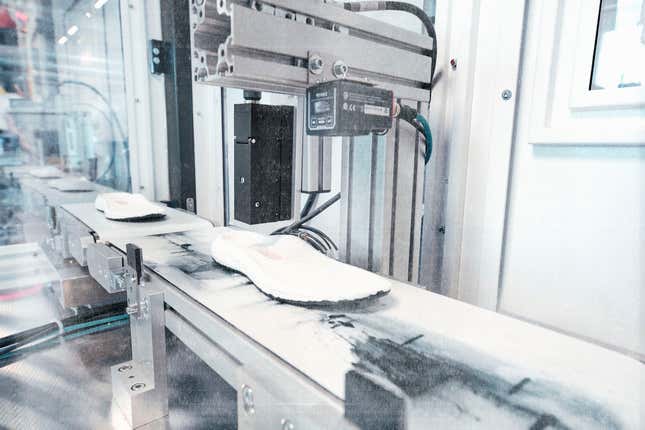 Because Adidas based the London and Paris sneakers on the MFG, their design is very similar. But as the company releases more sneakers tailored to different markets, the shoes will be more differentiated, it says, and it will develop greater capabilities in tailoring products as it keeps producing at Speedfactory. What's more, the technology integrated into the sneakers Adidas is making today will help to shape its future generations of shoes.
Adidas puts NFC chips in some of its products that reveal original content in its app. But Adidas has much bigger plans for the technology.
In the near future, it wants users to be able to send feedback directly to the company on how the shoes fit and perform. The idea is that the more chipped shoes it sells, and the more data it receives, the better it can make each new generation of products.
"The next level of iteration could be a shoe that actually sends information without you needing to connect it to a cable or to an NFC reader, utilizing 5G low-frequency technology," says Voegele.
The digitization of sneakers
Technology plays a key role in the new AM4 shoes, from how they were designed to how they're manufactured. For decades, an idea for a shoe began life as a design brief or a sketch on paper. The development team would have to turn that into technical specifications, like a blueprint, so the factory could make the real product. It usually took numerous samples to ensure the finished product matched the original idea, and often the design team had to be at the factory to troubleshoot.
"I started in '95, and we would travel to do a development trip," Carnes says. "We would go to the factory, spend a week or two there. Every designer had to travel with a box of pens and rulers, and if you brought a laptop, it was probably because somebody had one and you watched movies or something."
That has entirely changed because of the advent first of computer-aided drafting, and more recently, powerful 3D software, which is what the company's designers used to create the AM4 shoes. Today, design and manufacturing are no longer separate processes; they now happen simultaneously.
Coonrod works closely with the company's manufacturing team, since changes he makes to a design can affect the whole production set up at Speedfactory. In partnership with Siemens, which specializes in digitization and automation, Adidas created a complete digital replica of the factory down to each machine in it. It lets Adidas simulate production runs so it can accurately estimate how many shoes it can produce and optimize the set up.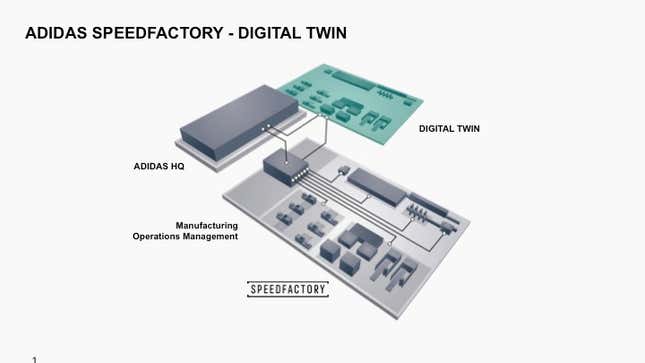 "We can build really accurate digital models [of shoes] in a way that we couldn't before, which allows us to get after things like theoretical testing that soft product has not really lent itself to in the past," Coonrod says. (Adidas has developed its own 3D software, while Nike works on Nova, the visualization platform created by movie studio Dreamworks.)
To run trials on products before it has a physical sample, Adidas uses ARAMIS, the same 3D motion-capture and analysis technology that allows NASA to calculate stress on the hulls of its space shuttles, and that Boeing uses to measure surface strain (pdf) on its planes.
The different colored patches along the AM4LDN are an example of this blend of 3D design and manufacturing. They alter the stretch characteristics of the upper, depending on how they're overlaid. They can also be applied easily by an automated machine at Speedfactory, letting Adidas make shoes that perform differently with little or no change to the production set up.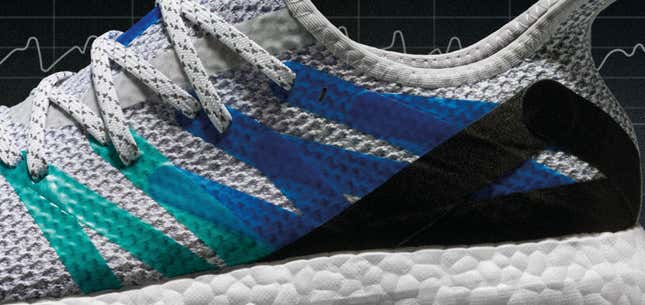 Giving customers what they want
As the name indicates, Speedfactory is set up to make Adidas faster than its competitors, and fast to get new products onto store shelves.
Matt Powell, vice president and sports-industry analyst at research firm NPD Group, believes this offers the company an important advantage as fashion cycles move faster than ever.
"They've identified speed-to-market as a critical initiative to the company, and I think they're absolutely correct in that position," he says. "That's really what's setting them apart."
While the Speedfactories may accomplish that goal, they'll only be a drop in the sea of shoes Adidas makes every year. For now, Adidas plans for the Ansbach and Atlanta Speedfactories to produce 1 million pairs of shoes annually. In 2016, it made 360 million pairs of shoes.
Both Powell and Aryapadi think it will be important to see how Adidas expands the Speedfactories' capabilities, and whether they reach more commercial production volumes in the long-term. Still, the factories could be important in keeping Adidas ahead of its competitors, as the whole industry races to meet the growing demands of shoppers.
"Today's consumers want three things: They want custom product, they want it fast, and they want innovation," Aryapadi says. "Innovation is style, material, technology—a combination of all of those. Adidas, those guys are at the forefront across all of these three dimensions."
He proposes a hypothetical scenario, in which customers expect to be able to get sneakers made according to their needs and wants delivered within a few weeks. That might only be a few years away. Adidas wants to be the first company to make it a reality.
Gerd Manz, the head of technology innovation on the Adidas Future team, makes another point too: Scaling Speedfactory isn't just about increasing production at the factories themselves or building more of them. They're using what they learn from Speedfactory to revamp their conventional supply chain in Asia too.
Importantly, Speedfactory's purpose is also to be part innovation lab, one that involves consumers earlier than ever in Adidas' sneaker development. "Right now, we are innovating as we go, almost on a daily basis," Manz says. "The consumer expects to be part of the innovation stream. They're ready to be beta testers."
London, you're up first.