Close to 50,000 people have evacuated the Mount Agung area in Indonesia's Bali resort paradise as officials warn that a volcano there might soon erupt for the first time in half a century. A 200-meter (650 feet) tall plume of smoke rose from the mountain Sunday, an official geologist told the BBC, and the area has seen tremors over the past week. On Thursday, some 400 tremors were recorded.
The evacuation came as Indonesia's national volcanology center issued the highest alert level for an eruption last Friday (Sept. 22), followed by an update Sunday night noting there has been increasing seismic energy (link in Indonesian). Despite this activity, it's hard to be sure that an eruption will definitely occur, officials say.
The Indonesian Department of Meteorology, Climate and Geophysics said that no residents or tourists should remain within 12 kilometers (7.5 miles) of most parts of the mountain.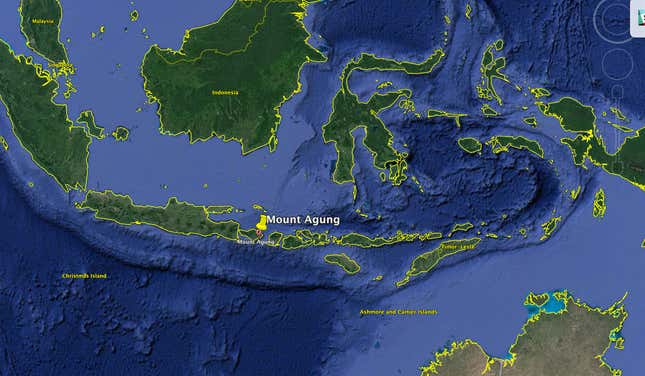 Located in the eastern part of the island, around 70 kilometers (45 miles) from Bali's Denpasar airport, Mount Agung's possible eruption is raising concerns about disruptions in travel to and from the popular tourist destination. Australia, which sent nearly 90,000 tourists to Bali in 2016, has issued a travel warning for Indonesia, citing an eruption could impact air travel to the region on Friday. But major airlines serving tourists to the area don't appear to have rescheduled flights just yet. Australia's JetStar and Virgin Australia said they are monitoring the situation, and delays may occur.
The possible eruption could also affect Chinese tourists embarking on a week-long national day holiday from next weekend.
In 2015, when Mount Raung, in East Java, erupted, there were no casualties but it sent up an ash cloud that shut down several airports in Indonesia, including on Bali.
Sitting on the Ring of Fire, an active belt of earthquake epicenters and volcanoes in the Pacific, Mount Agung last erupted in 1963 and killed almost 1,000 people. Preceding that eruption, multiple earthquakes took place, followed by lava flowing down from the summit crater, before a major explosion took place on March 17 that year.
This post was corrected Sept. 25. An earlier version said Mount Raung was in Bali.