Just hours after the hard-right Alternative for Germany (AfD) won its first-ever round of seats in the German parliament, its co-leader Frauke Petry told a press conference in Berlin—with her newly-elected colleagues next to her—that she had decided not to go into parliament with the party. Then she got up and stormed out of the press conference.
"I think we should be open today that there is a disagreement over content in the AfD and I think we shouldn't hush this up," said Petry.
She said she wanted to position herself as an independent politician and have a "conservative new start" but didn't say whether she was founding a new party. Later, on her Facebook, she slammed the party for the "shrill and far-out statements of single members" which dominate the view the public has of them.
This doesn't mean Petry is a moderate, she's far from it. A member of the AfD since 2013, it was she who put the former eurosceptic party on its new anti-immigration platform during the height of the refugee crisis in 2015. She's made numerous controversial statements about refugees too, including that "Islam does not belong in Germany," and saying that German border police should be allowed to fire on migrants along the Austria-German border.
Petry, who for some has been acceptable face of xenophobia, has been critical of radical statements made by others in the party as she believed it made it less attractive to moderate voters as well as for potential coalition partners when it would enter the Bundestag for the first time.
In a party riddled with infighting, she was slammed by some members for not supporting comments made by an AfD leader in Thuringia state, who said Berlin's holocaust memorial made the country "laughable." She also publicly criticized Gauland for saying Germany should be proud of what German soldiers had achieved in two world wars.
What now AfD?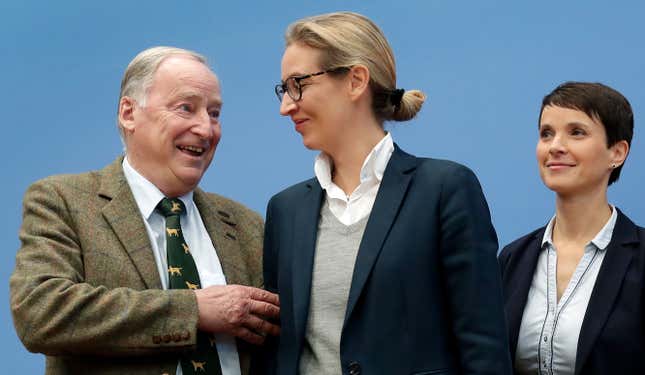 It is unlikely that Petry's sudden departure will mean much for the party, which many expect will struggle not only as a pariah in parliament, but also because it really only has one core policy issue—being against immigration.
"It is part of a power struggle, in which she may hope that her steps will create more friction in the party," Josef Janning of the European Council of Foreign Relations told Quartz. "She may also hope to split the faction and pull over some other deputies."
Janning believes the party's success has laid it open to new risks: "Fringe parties are often built by rather special personalities, with big egos and narcissistic characters," and these people's inability to serve the greater good of the party can be its downfall. 
While the now-93 new AfD members of parliament can raise a stink in opposition, some political experts believe they won't really make much difference in German politics. "No one will form a coalition with them. They'll be excluded. Their motions will be shot down," said Oskar Niedermayer, a politics professor at the Free University of Berlin. "If they put forward reasonable motions that other parties might agree with, they will be voted down, and the other parties will put forward slightly modified motions."
No change in tone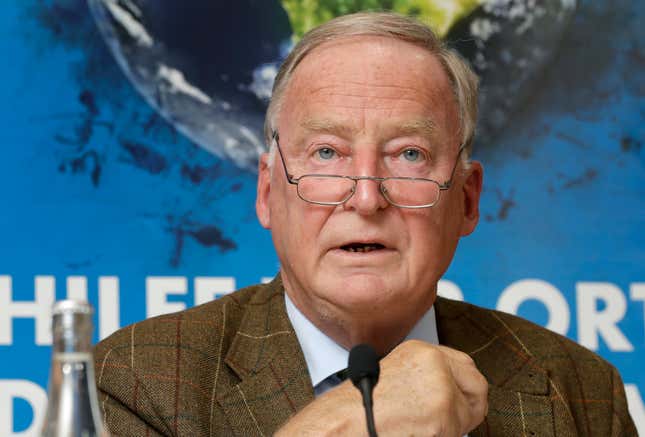 Alexander Gauland stuck to his inflammatory rhetoric at the party's first post-election press conference on Monday morning. "One million people, foreigners, being brought into this country are taking away a piece of this country and we as AfD don't want that," Gauland said. "We don't want to lose Germany to an invasion of foreigners from a different culture."
It intends, Gauland said last night, to "hunt" Merkel, and "take back our country and our people."
That xenophobic message resonated with 13% of those who voted yesterday: An ARD/ Infratest Dimap poll on why Germans voted for the AfD found that nearly 70% of them were concerned about the fight against terrorism, and 60% were worried about both crime and the influx of refugees.
The AfD's nationalistic message propelled it to big wins in some former Eastern German states—it was the biggest party in Saxony. In former GDR states, the AfD is in second place overall, behind Angela Merkel's Christian Democrats.