Jamie McGoldrick, the United Nation's point person for humanitarian work in Yemen, is all out of hope.
Breaking from the customary can-do optimism and congratulatory back-patting common at the UN General Assembly, McGoldrick told a group of reporters point-blank on Sept. 20 that "there's no hope on the horizon" for the country. "The prescription for the future is bleak—at the very best it's bleak. It's a disaster," he said. "I think the humanitarian crisis is going to get much, much worse."
Yemen has been embroiled in a war for three years that has stripped the country of social services and replaced them with widespread hunger, displacement, and a massive cholera outbreak.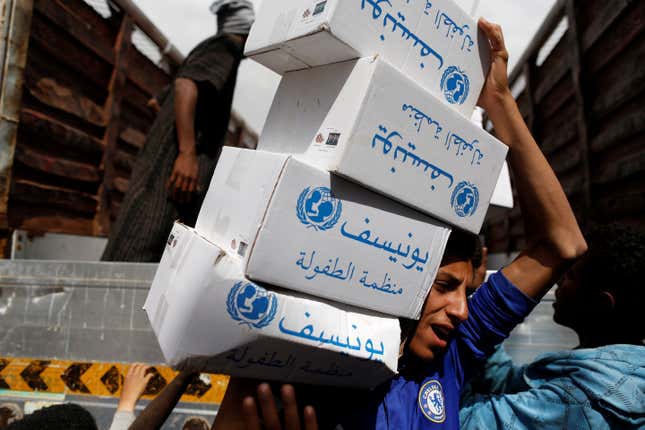 Cholera outbreaks begin when drinking water is contaminated with the feces of an infected person. "Cholera is something you can fix easily," said McGoldrick. "It's a poverty issue, it's a sanitation issue. But in the case of Yemen it's because of [political] collapse." Cholera cases have soared to 650,000 since the epidemic began this April. "It'll probably get to about 850,000 by the end of the year. And there's been about 2,300 or so associated deaths with that," he said, noting also that deaths are hard to count when normal government services are not functioning. "People are dying in corners of the country in silent deaths."
McGoldrick, who lives part time in Yemen coordinating the UN's humanitarian efforts on the ground, predicts this is only the beginning of disease outbreaks for the country: "The next thing that will come up will be meningitis. Then there'll be dengue fever. Then we'll have cholera again in January, because the rainy season will come."
"You've got 400,000 kids under the age of five who are acutely malnourished," he continued. "And those numbers are growing because 50% of health structures don't work. Seventeen hundred schools don't function. Thirty thousand health workers don't have salaries. There's no operational budgets."
"Two million kids are out of school. It's a lost generation," he said.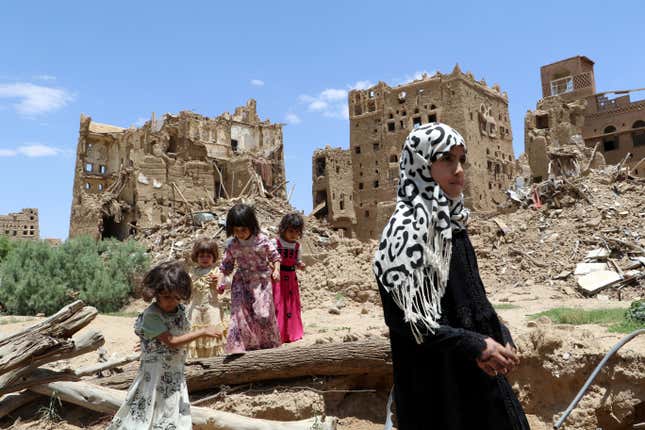 McGoldrick also lamented the lack of public attention to the crisis. Most journalists are not allowed into the country. "Last weekend there were three attempts, one by CBS Frontline, one by BBC, one by ITN," he told reporters. "They were all given visas by the government of Yemen but blocked by Riyadh," he said, referring to the Saudi Arabian capital. The Saudi coalition controls the airspace. According to the UK government, Yemen's major international airport, in Sana'a, was shut down last year, and the Saudi coalition currently only allows for UN and other international humanitarian organizations' flights. In July this year, the Saudi-led coalition prevented a UN flight to Sana'a reportedly because three international journalists were also aboard.
Yemen's health ministry estimates the Sana'a airport closure has caused 10,000 deaths by making it impossible for critically ill people to leave the country to get necessary medical attention.
The UN makes about 10 humanitarian flights into Yemen per week, but Yemenis aren't allowed to leave on those planes. McGoldrick says those flights aren't nearly enough to provide the aid needed. The UN's Yemen program has received only about 50% of the funding they asked for this year, according to McGoldrick.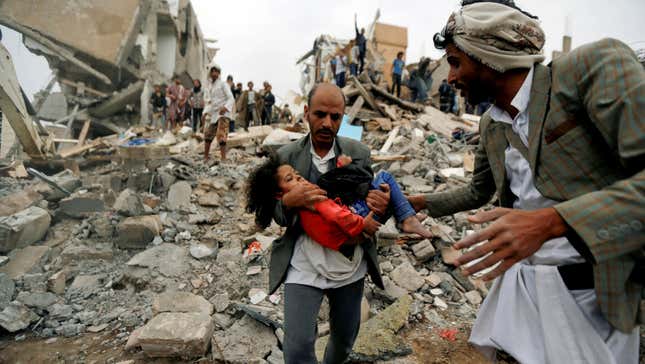 The humanitarian crisis has been primarily caused by a war with no end in sight between pro-government forces backed by a Saudi-led coalition and Shiite Houthi forces aligned with Iran. "What we've got is a situation where politics has failed, and because of that the humanity suffers. There's no hope on the horizon right now politically, we don't see anything, and the result is there's no hope on the horizon for the humanitarian crisis."
The US supports the Saudi-led coalition in the war through arms sales and jet fuel. In August of this year, Saudi Arabian air strikes on Yemen's capital of Sana'a killed 30 civilians. Previous strikes have hit schools and hospitals, and, last year, killed more than 100 after inadvertently bombing a Yemeni wedding party.
McGoldrick told reporters he expects to come back to the UN General Assembly next year with an even worse situation to report: "I see myself coming back here with bigger numbers and more desperation."