At New York's renowned Museum of Modern Art, in the same building where tourists line up to view masterpieces such as Van Gogh's The Starry Night and Picasso's Les Damoiselles d'Avignon, the jersey of football player Colin Kaepernick is on display.
Its unexpected appearance there serves as a symbol of how a simple sports jersey can communicate powerful social and political messages.
Kaepernick has been a highly controversial figure since last year, when he began kneeling through the US national anthem before NFL games to protest racial injustice and police brutality against black Americans. His actions have drawn the ire of countless NFL executives, which is probably why the talented quarterback is currently unsigned. US president Donald Trump this weekend lashed out at athletes who have followed Kaepernick in kneeling, saying they should be fired. Trump's comments sparked a vastly expanded wave of protests across the NFL, involving athletes and even team owners.
Kaepernick's old 49ers uniform is displayed in an exhibition called "Items: Is Fashion Modern?" that opens Oct. 1 and will occupy the museum's entire sixth floor through January. The show collects 111 different items that represent stereotypes of different garments and ideas in fashion—among them a little black dress by Gabrielle "Coco" Chanel, African Kente garments, a men's Savile Row suit, Nike Air Force 1s, and Chinese cheongsams.
Kaepernick's jersey appears in a section dedicated to sport's influence on fashion, sandwiched between the shirt of New Zealand Rugby Black Ferns and the Brazilian national team jersey of soccer legend Pelé.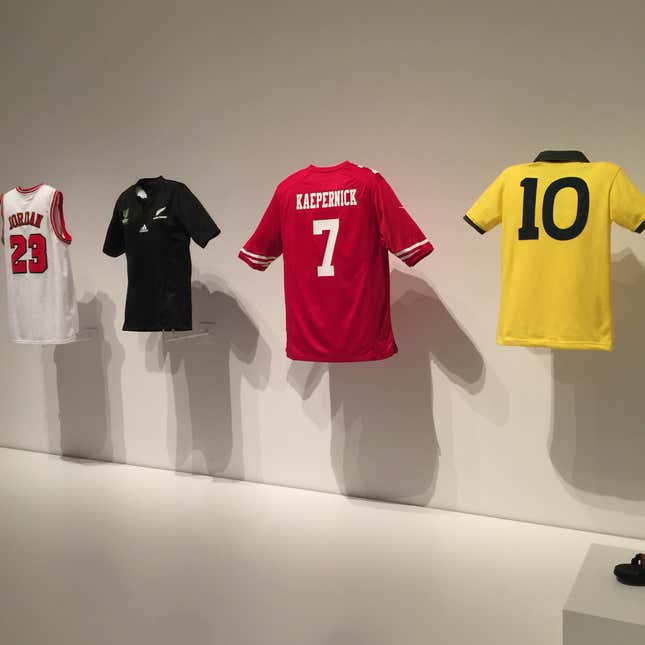 The push to include it came from Stephanie Kramer, a research assistant at the museum and the fashion expert on the curatorial team behind the exhibit. She says the idea arose after his jersey became the surprise top seller of all players in the league.
"When the whole Kaepernick thing happened last year, it was noted by the NFL that his jersey was outpacing the sales of [New England Patriots quarterback] Tom Brady's jersey," she explains. "To us, that seemed to us to indicate a sea change in what the jersey represents for people. Not necessarily your hero, good-looking quarterback, but perhaps somebody who was using his sports prowess and celebrity to say something socially and politically. We thought that made a really important statement about what the sports jersey could mean to its wearer."
Important statements are Kaepernick's strong suit lately, and the shirt clearly resonates broadly. On Aug. 23, Kaepernick supporters even rallied by the NFL headquarters in New York, many of them wearing Kaepernick's #7.