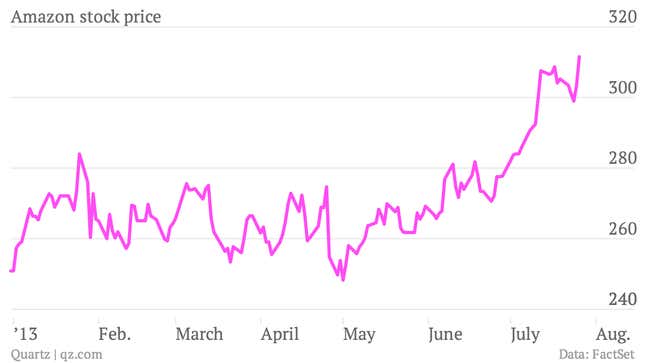 Amazon surprised investors yesterday with an earnings per share loss of $0.02. Its shares fell on the news in after hours trading. But since then, its stock has gone up and actually hit a record high today. In the eyes of its shareholders, it seems Amazon can do no wrong.
Investors have decided to focus on how great Amazon is doing in the US and ignore its weaknesses overseas. Amazon's overall sales rose by 22% while its North American sales increased by about 30%. It also improved gross profit margins by 28.6%, slightly better than what analysts expected.   
Still, Amazon was expected to report a profit, not a loss. Amazon's negative earnings per share occurred because it's been spending a lot more, mainly to expand and shore up its US business.
Amazon shares hit a record high of $313.62 before falling. Now, it's trading around $311.55 a share. We'll see if investors are as generous the next time Amazon reports earnings.