Bob Geldof, the veteran singer-songwriter who turned political activist, is "sick of it." "It" being the politicians getting in the way of a better world Geldof wants to bring to existence, as well as "old culture."
Geldof is well-known for speaking his mind on political situations and at the week-long One Young World Summit in Bogota, Colombia, which Quartz is attending, he was no different. Airing his frustrations to a crowd of 1,400 young leaders from 196 countries, he said "I am fed up with this world, I'm not tired of it, I'm just sick of it. I'm sick of what has happened to us in the 12 months since we last gathered in Ottawa [the last One Young World Summit]."
"I am sick of it," he repeated.
She who must not be named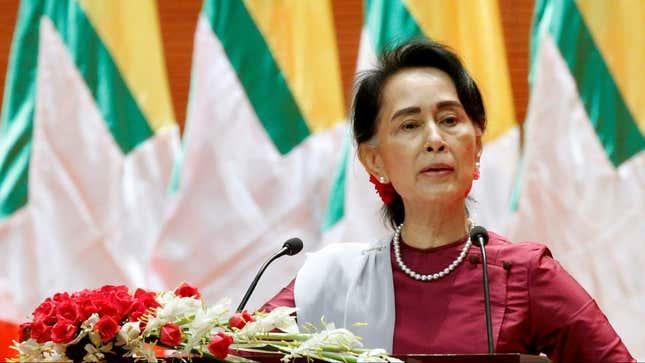 At the conference, his short speech proved to be illuminating. He used the time to hit back at the well-known Nobel laureate who has gone on to shock and disappoint her contemporaries—Aung San Suu Kyi. She won the Nobel Peace Prize in 1991 but has since been heavily criticized for her inaction in the face of reported atrocities against Rohingya Muslims in the Rakhine state of Burma. Since late August this year, more than half a million people have fled across the border to Bangladesh.
"I am sick that on this stage are some of the greatest people who have fought for justice, peace, and equality in our world." Sitting behind Geldof was former secretary-general of the United Nations Kofi Annan and three Nobel Peace Prize Laureates; Colombian president Juan Manuel Santos Calderón, professor Muhammad Yunus, and Tawakkol Karman.
"And one of the [Nobel Peace Laureates] in Myanmar insults them–insults them all. [The person] who took the greatest prize that humans can give to another… becomes one of the great ethnic cleansers of our planet. This is a disgrace," he added to loud applause.
While Geldof didn't name the "great ethnic cleanser," the crowd approved of his hit against de facto leader of Myanmar and Nobel laureate Aung San Suu Kyi.
Geldof, however, had no problems explicitly calling out US president Donald Trump and his Russian counterpart Vladimir Putin, Chinese president Xi Jinping, and Turkish president Recep Tayyip Erdoğan by name.
"I am sick of these leaders. I am sick of Putin, I'm sick of Xi Jinping, I'm sick of Trump, I am sick of Erdogan. I loathe these people. I despise these people. How dare they behave in the manner they behave? How dare they?"
Another round of applause.
Down with flags and culture
Soon before Geldof's speech, over a hundred young and enthusiastic delegates walked on stage, proudly waving the flags of their home country. However, Geldof admitted: "The bit I don't like about One Young World is the flag bit."
Geldof understands that people belong to a place, feel love for their own people, and enjoy displaying their culture. But, he insists, "the flag is our tribal nature and it bedevils us."
Geldof goes further and slams culture too. "Never before in history, never before, never before, have we met with such change at such a pace that we as humans find it hard to comprehend. And all the culture on display on this stage tonight will not resolve it," he says. "Because those old bro minds represented by those old leaders, represented by those old tribes, cannot meet the challenges of the now."
Geldof tells the crowd that it's a "seriously dangerous world. And getting more so." That's why old institutions don't work, old laws need to be redressed, and "the old cultures—beautiful as they are—need to be kept in a museum."
The One Young World contributed to accommodation of the writer's trip to Colombia.