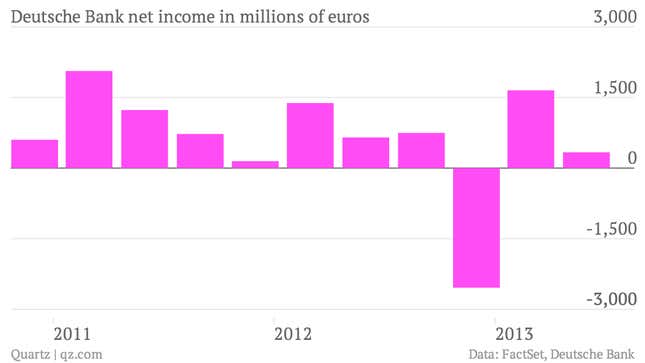 The numbers: Bad. Deutsche Bank's net profit fell by 50% in the second quarter to €335 million ($444 million), partly due to high legal costs. Net revenues came in at €8.2 billion.
The takeaway: Shareholder lawsuits, some of which are related to the subprime mortgage crisis of 2008, increased expenses for the bank by €630 million. The bank now has €3 billion set aside to deal with legal costs, up from €2.4 billion last quarter. Deutsche Bank was also hurt by ups and downs in the stock market, unlike US banks, which benefited from market volatility that boosted trading revenue. The German firm said in a statement that "the current quarter performance was significantly impacted by an uncertain macroeconomic backdrop which resulted in elevated market volatility and a broad sell-off across asset classes towards the end of the quarter."
What's interesting: The good news is that the bank hit the capital ratio goal of 10%, which is necessary under the coming Basel III standards, earlier than expected. Last quarter the bank was at 8.8%. The bank had issued 90 million new shares in April to raise about €3 billion in capital. Its total assets shrank by about 6% to almost €2 trillion.