On Oct. 1, Fitbit announced two new products for its line of connected fitness gadgets: the Ionic, its first attempt at a real smartwatch, and the Flyer, its first attempt at wireless headphones.
I tested out both products over the last two weeks, but forewarning: This review focuses almost entirely on the Flyer, for a reason.
The Ionic is basically a poor man's Apple Watch Series 3, which was unveiled last month. If you can afford the Ionic—currently selling for $299.95, you can probably pony up $29.05 more to get the Series 3. It does almost everything that the Ionic does—including heart rate tracking, music storage, and payment support—in addition to so much more, including messages, Yelp, Google Maps, tons of other apps, and voice commands through Siri. For an extra $70, you can also buy a version of the Series 3 with a built-in LTE chip that can make phone calls on its own. Short of that, the Ionic can't compete. All the features of a fitness-focused smartwatch seem redundant when I need to bring my phone along anyway. (The one major caveat to these comparisons is that the Apple Watch only works with other Apple devices, whereas the Ionic is compatible across iPhones, Androids, and Windows phones.)
Additionally, certain aspects of the Ionic's fitness features are lacking. The Coach app includes only three free guided workouts. The rest of its offerings, which launch sometime this fall, will include additional guided workouts, weeklong training programs, and other health routines, and they must be unlocked through a subscription fee of $7.99 per month or $39.99 per year.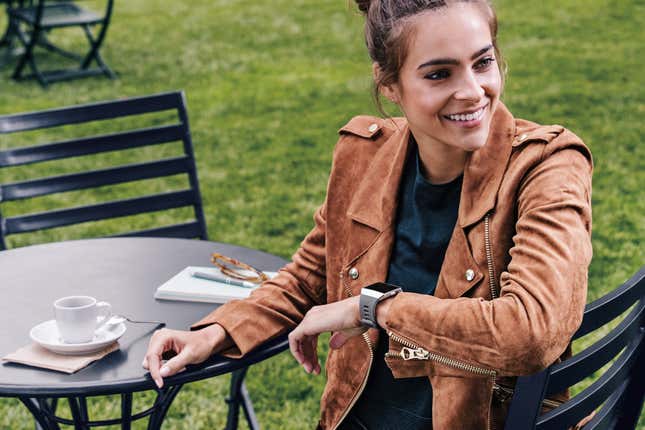 Lastly, the Ionic is ugly. I'll give it to Fitbit that the metallic, boxy aesthetic can evoke edge and industriousness when paired with athletic gear and apparel, but it pretty much ruins any chance of the watch being compatible with everyday, professional wear. (At one point when I was wearing the watch for testing, a colleague stopped me to question my fashion choices.)
If you're specifically looking for exercise tracking, go for one of the slimmer Fitbit trackers—all of which look much nicer on the wrist. I personally own a Fibit Charge, which sells at half the price of the Ionic and meets my needs with heart rate and sleep monitoring, automatic exercise tracking, and step counting. Then again, I'm not a hardcore athlete, so take my advice with a grain of salt.
In contrast, the Flyer left me impressed. Before testing, I'd never used wireless headphones. Just a few minutes with the Flyer and I was hooked.
Here's what I found testing over the last two weeks: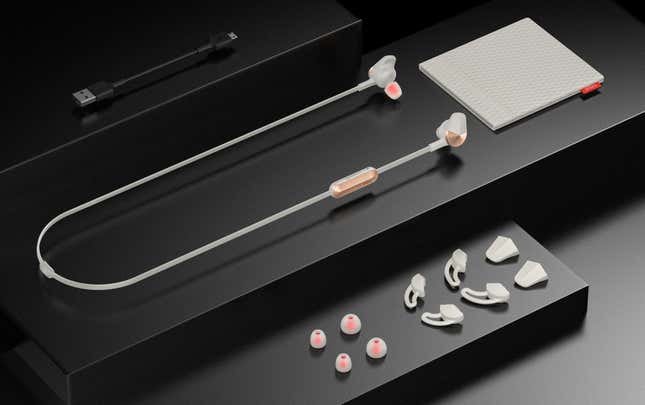 What's good
The fit is customizable. Ever since the iPhone 7 thrust us toward a wireless future, I've dreaded the day that I'd be forced to buy a pair of wireless headphones. I am one of those people with abnormal ears who always has trouble getting earbuds to stay in. But Fitbit celebrates ear diversity, and the Flyer comes customizable with a pack of ear tips, fins, and wings in small and large sizes. The right combination fits like a charm. I no longer fear the future. Thank you, Fitbit.
They sound excellent. The sound quality amazed me the moment I started playing Pentatonix jams. The music comes through clear, crisp, and nuanced, and the snug fit blocks out environmental noises to ensconce you in your favorite tunes. Compared with my Beats Solo 3 wireless headphones, the Flyer also has a better bass and richer audio. I was even more impressed when they blocked the New York subway screeching on my commute. I no longer need to pause my podcast to wait for the train to pull in.
They can connect to two devices at the same time. I had a private moment of delight when the Flyer's voice said, "Two devices connected." Dinosaur that I've been, I gotten so used to switching my headphones back and forth between my phone and my computer. Now that seems silly. I'm a changed woman. (To be fair, though, some other wireless headphone models, like Bose's QC 35s, can also do this.)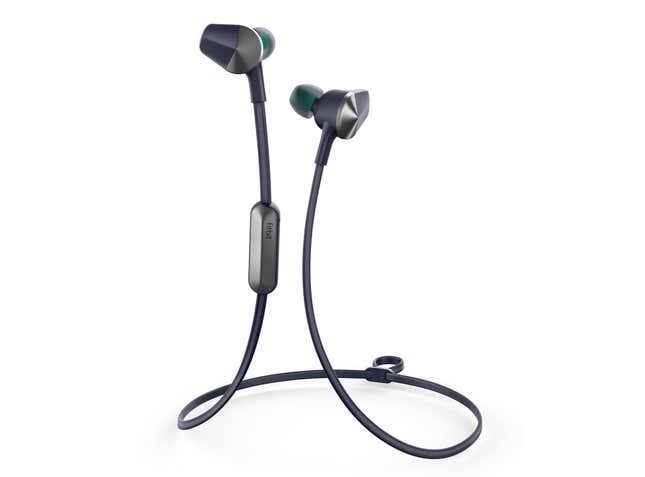 It does reasonably well with calls. When you use the Flyer for both the input and output sound during a call, it plays you back your voice in real-time, so you can actually hear what you're saying. At the same time, it suppresses other external noises, so you hear the sounds around you at a lower volume, making it easier to have a phone conversation. In a weird way though, since the Flyer's mic has long-range pickup, you can also hear things happening really far away, which makes it feel like you have super hearing powers.
They charge quickly. Plug the Flyer into a USB port for only 15 minutes and you will be ready to go. The quick fill-up compensates for the fact that the battery life is really short (more on that below).
They look slick. With its elegant aluminum accents, the Flyer certainly makes you look… well, flyer. Fitbit sent me the white-and-gold model, and they are gorgeous. Whether you're working out or on your commute, the Flyer will complement your outfit and play to your style.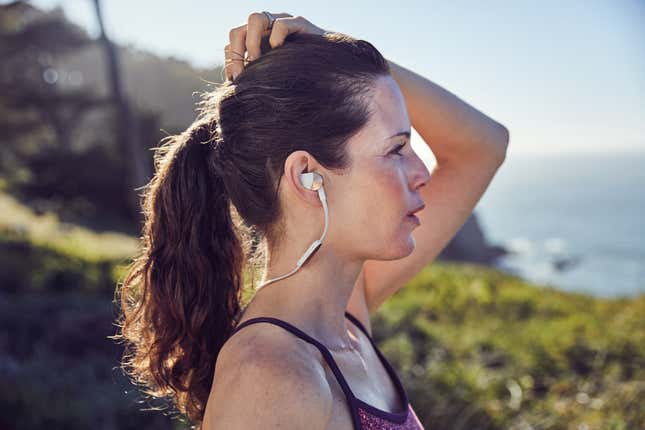 What's not good
Short battery life. Fitbit says the Flyer has a "long battery life" with up to six hours of playtime. That's too short. Yes, these headphones are designed for workouts, which usually don't extend beyond a few hours, but it seems silly that Fitbit wouldn't expect people to use them for other functions while charging $129.95, a relatively high price. I've used them to listen to music at work, enjoy podcasts on my commute, and take conference calls. Given all these activities, the Flyer's battery life can feel frustratingly insufficient. When it's time to charge, pray you remembered to bring the cable.
You can't tell if they're on or off. Unlike other wireless headphones, the Flyer has no visual cues to indicate what state it's in. Instead, you have to press the power button and listen to the voice say "Powering off" to realize they were already on. I understand that this may be a power-saving tactic, but even using a different colored light when they power on versus off would have been helpful. And that's because…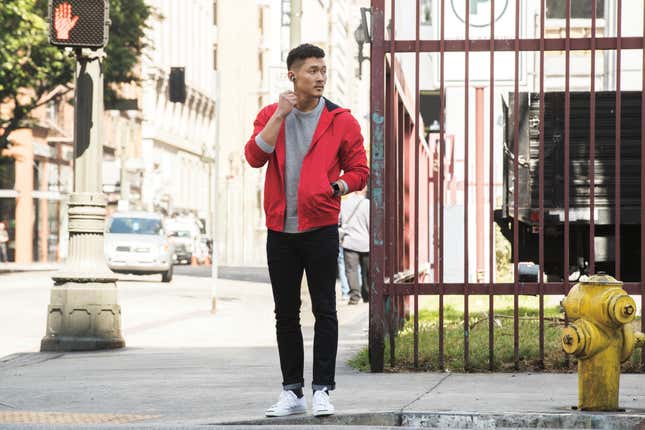 The tune they play as they're turning on is really annoying. The Flyer says hello with a harsh three chord progression that does little to ease you into your morning commute. I've resorted to keeping the buds an inch away from my ears when I power it on.
The wireless connection isn't always reliable. There have been times when the connection to my phone or computer has failed me during a call. As a result of the lingering insecurity, I still carry a backup pair of plug-in headphones at all times.
They're not cheap. At $129.95, they're on par with the cost of other high-quality sports wireless headphones, it's not pocket change.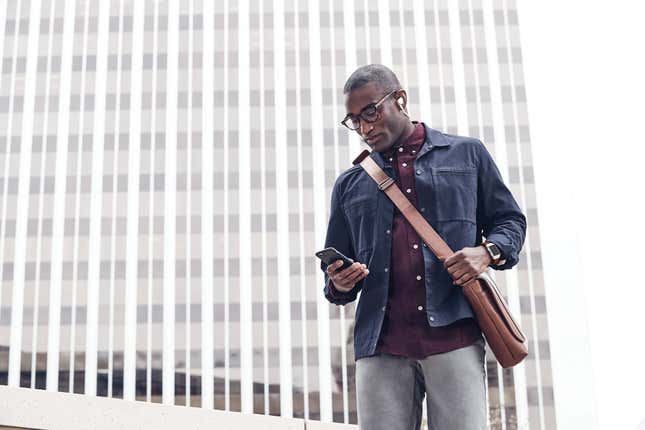 Should you get a pair?
As a consumer whose only regular, full-body contact sport is my New York subway commute, Fitbit likely didn't intend me as its target user, but I still felt like the Flyer added newfound simplicity to my life. The headphones are easy and delightful to use, whether in the office or on the go. The one thing I stop short of is the price—though in a way, it encourages me to get out more, so I can justify the cost. (They're also about $30 cheaper than Apple's AirPods, which Quartz thoroughly enjoyed.)
If you are a frequent jogger or gym junkie, the Flyer seems like an even more worthwhile purchase. They are comfortable, secure, and, according to Fitbit, sweatproof to last through rigorous workouts. They also deliver great sound to keep you pumped up and motivated, if that's what you're after.
It's unlikely Fitbit expected its headphones to outshine its smartwatch, but for me, the Flyer did exactly that, playing to Fitbit's strengths of simplicity and accessibility. In contrast, the Ionic packs too many features and achieves little excellence or elegance.
So spend your money on the headphones. Not the watch.