Earlier this week, Apple unveiled the third iteration of its Apple Watch wearable device. It's a third attempt at figuring out the market for a device that has still not found the widespread success that Apple's other product lines, such as its iPhones, Macs, and iPads, have found.
Originally, the device was marketed as a notification streamliner, and a way of learning more about your day as it progresses.  At the time, CEO Tim Cook said the watch would help people "easily access information that matters, to interact with the world, and to live a better day by being more aware of their daily activity than ever before."
The second time around, when Apple launched the Series 2 last year, it marketed the device as "the ultimate device for a healthy life." This time, with the launch of the Series 3—a device that effectively looks and acts much like the previous two iterations, just with a built-in cellular data chip—Apple had this to say:
Whether users are out for a run, at the pool, or just trying to be more active throughout their day, Apple Watch Series 3 with cellular allows them to stay connected, make calls, receive texts, and more, even without iPhone nearby.
In the three years the Apple Watch has been available, Apple has struggled to position it as a device that regular people who do regular things need. Unless you have a litany of meetings that you need to know about at any given moment, or are deeply interested in the minutiae of your heart's pumping, there still isn't that much of a reason to purchase one. And what Apple chose to highlight during its press conference Sept. 12 seems to solidify the Apple Watch as an excellent health-monitoring device, but little else.
The three main things that Apple focused on during the watch part of its presentation included 1) the fact that the new watch has cellular data connectivity, 2) that it can now track your heart rate so thoroughly it knows how effective your workouts have been, and 3) that is has new sensors to track how many flights of stairs you've climbed.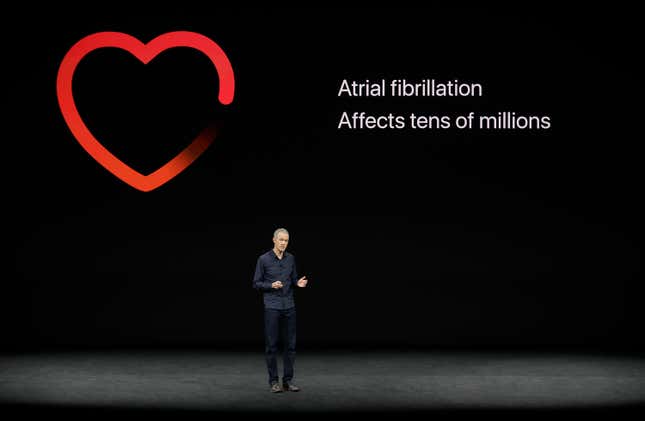 Apple highlighted a new partnership with Stanford University to use the watch's heart-rate monitoring data to learn how to discover if people have arrhythmias (irregular heartbeats). This will be welcome news for those with heart issues, such as those at risk of atrial fibrillation (heart failure related to arrhythmia), but perhaps not something that the average consumer of tech gadgets will see as a large selling point.
Health insurers like Aetna are subsidizing the cost of Apple Watches, in an attempt to better understand how people will need medical services. So when Apple creates features like the heart rate tracker, it's difficult to see the device as much more than a tool that insurance companies would love to strap onto every one of its policyholders—if you walk a certain number of steps in a month, perhaps your premiums are lowered; if you log enough exercises in a week, you get a discount. But these shouldn't be reasons for a consumer to want to buy the watch themselves (or arguably agree to strap on one at the behest of an insurer).
The other main selling point is the wireless connectivity. You can now make calls from your wrist, wherever you are, without the need for a phone. But in what situations will you not have your phone with you? Ones where you probably won't have a watch on (the bathtub, your bed), or, when you're working out.
An LTE Apple Watch is the perfect exercise companion: You can use it to stream music to your wireless headphones, use apps to track your workout performances, and stay up to date on any information pertinent to you without needing to keep your phone nearby. In Apple's presentation, it showed off this functionality not by having someone take a call in line at a coffee store or at their office desk, but instead on a paddle board in the middle of a lake. It's another example of the lifestyle Apple is trying to sell with the watch—one where we all work out and want to know just how healthy we are at all times. Apple might try to remember that not everyone lives in California where the sunny weather is a constant reminder that you should be outside burning off calories.
The iPhone is a popular, successful product because it's a reliable device that can be whatever its owner needs it to be. The apps, and the mobile web, provide just about any experience you'll ever need. With the watch, Apple has created a device that has extreme utility only in certain situations. If that's all it will ever be, that's fine, but it won't be what the company needs to diversify its revenue streams in the future. It can't rely on the iPhone forever.