Should the world be concerned about the radicalization of white men? "Yes," says Bjørn Ihler, "I almost got killed by one."
Ihler, speaking to Quartz at the One Young World Summit in Bogotá, Colombia, was just 20-years-old when he faced far-right extremist Anders Behring Breivik in 2011. Ihler was one of the 600 people attending a summer camp organized by the Norwegian Labour Party on the island of Utoya. The attack lasted over an hour and during that time Breivik managed to kill at least 77 people on that island. Breivik pointed a gun at Ihler, who was certain he would die next. But Breivik missed, and Ihler threw himself into the water, red with the blood of his friends, and swam for his life.
Experiencing such an awful near-death experience "really sucks badly," said Ihler, but it spurned on his life work to combat extremism and work to de-radicalize far-right extremists.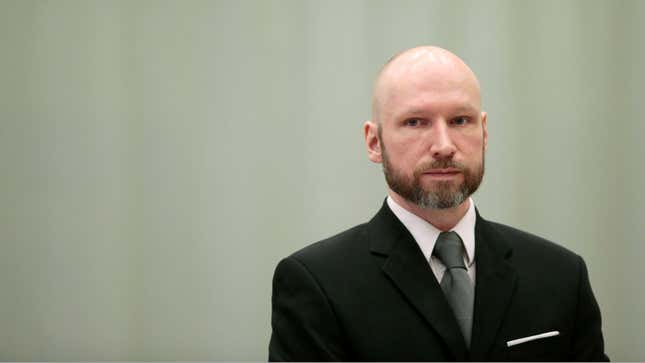 Following the 2011 Norway attacks:
An Italian neo-fascist killed two African men in Florence in the same year;
In Germany, a right-wing extremist gunned down nine people in 2016;
In Britain, a far-right British man repeatedly shot and stabbed a British MP Jo Cox in 2016.
Mass shootings and acts of right-wing terrorism were even more common in the US:
Meanwhile, since Donald Trump became president, more Americans have been killed by white American men than by Muslim terrorists or foreigners—mainly due to the worst mass shooting in US history, by white male, Stephen Paddock.
Despite these attacks, far-right extremism doesn't appear to be a priority to Western governments. European governments are ignoring the threats posed by far right extremists, according to a 2016 report, which notes that since 2000, one in three lone actor terrorists in Europe have been driven by extreme right-wing beliefs.
In the UK, the government's flagship program for countering extremism is dodging accusations that it targets muslims. In the US, the Trump administration cut funding for a group that combats white supremacy. That group, Life After Hate, was the only group focused solely on far-right violent extremism to initially win funding from a $10 million fund under the government's Countering Violent Extremism program.
These programs are crucial to de-radicalizing white men and preventing further violence, Ihler says. "It's about giving them a sensation that even though you don't value their point of view, you value their humanity. It's about recognizing people as human beings and given them the experience of being valuable," he explains.
A former extremist Ihler worked with once said, "hurt people hurt people." The former extremists insisted that people who have experienced pain cause pain for others, to which Ihler replied: "My question is where is your pain coming from? And what can we do to address that without causing other people pain. Because we need to break that cycle."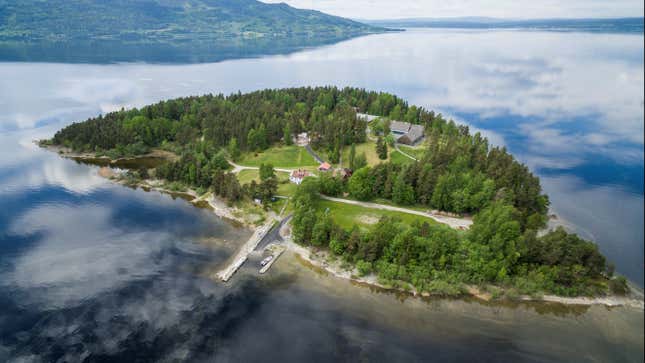 Rehabilitation, not revenge
At the heart of Ihler 's work is the belief that normal people can easily be radicalized, but all it takes is for another person to bring them out of extremism.
"There's always grains of humanity that is something you can build on." Ihler's calls for forgiveness and transformative justice—where the focus is on rehabilitation and not revenge. "I don't want anyone to ever stand in my shoes, getting aimed at by a terrorist. I think it's worth investing everything I've got at least, making sure that never happens again. If I can save just one person from ending up in that position then that's worth it for me," he says.
Ihler often reaches out to extremists (and says "hey, let's have a conversation") and has had some come to him. He describes the experience as "overwhelmingly positive." But he understand his methods can be upsetting to other survivors and family members, who have called to bring back the death penalty or for Breivik to rot in jail.
"One of the struggles I had very early on after surviving the attack in Norway was dealing with the parents of the people who died," said Ihler.
Peace activist Desmond Tutu called on Norwegians to forgive mass murderer Breivik, sparking outrage across the country, but Ihler says he has a point. Forgiveness does not mean excusing someone's crimes, but it's a call to move on whilst acknowledging and responding to the challenges within a society.
"I think it's really important that we try to distance ourselves from people like Brevik, by standing up for the exact opposite."
The One Young World, which gathers 1,300 young leaders from all 196 countries to tackle the globe's most pressing issues, contributed to accommodation of the writer's trip to Colombia.