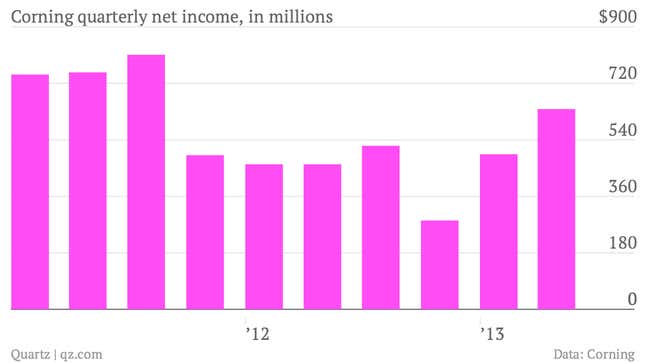 The numbers: Great. Corning saw significant improvements, both year-over-year and compared with the previous month. This was the company's third consecutive quarter of year-over-year earnings growth. Profits rose 35% this quarter, and sales climbed 3.9% to $1.98 billion with display technology sales up 21% from last year and the Life Sciences (read: test tubes) segment up by 35%. Earnings per share were $0.42, a 39% increase from last year's $0.31.
The takeaway: Corning's LCD television sales declined in 2011 and 2012, but it seems like the company has found its footing again. Prices for LCD televisions are still dropping, but so is the cost of making them. Prices have dropped enough that we may see sales increase again. "We believe Corning will continue to have good sales and earnings growth," James B. Flaws, vice chairman and chief financial officer, said, "driven by our Display Technologies segment's success in moderating LCD glass price declines; our leadership positions and strong customer relationships in all of our segments; and growth from new products,"
What's interesting: If screen sizes continue to grow, there could be an increase in demand for Gorilla Glass, Corning's star anti-scratch material featured on practically all smartphones. We could also see some interesting new product applications; Just last month, there were rumors that Gorilla Glass might be used in high-efficiency cars.