Companies for years have been finding ways to transform plants into things that could replace meat and egg products. It happened to mayonnaise and burgers; now it's happening to tuna sushi.
Starting Nov. 1, the Amazon-owned Whole Foods Market grocery chain will add a plant-based tuna sushi option to its sushi bars in the New York and Los Angeles markets. The product was created by New York-based Ocean Hugger Foods, which found a way to mimic raw tuna using tomatoes.
Andy Sasser, who helps makes decisions about what prepared foods are sold at Whole Foods, told Supermarket News he discovered the tomato-based tuna while perusing vendors at the 2017 National Restaurant Association trade show in Chicago.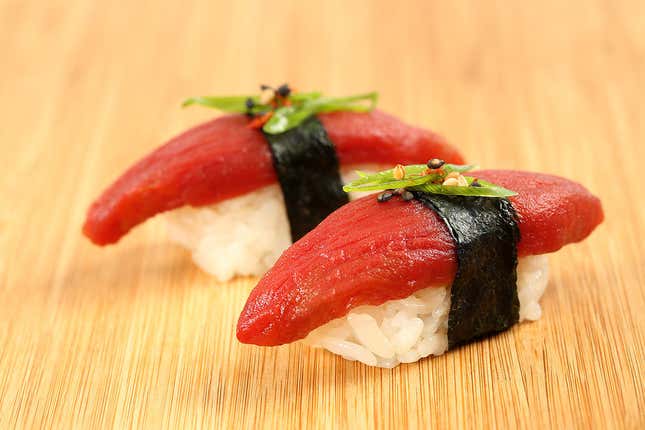 The tomato-based sushi is comprised of just five ingredients: tomatoes, soy sauce, sugar, sesame oil, and filtered water. And while its creators are guarding the process as proprietary information, they say they've managed to mimic the fattiness and texture of fish, and even if the cuts don't taste exactly like the real thing, they do come close. Sasser described it as being "not tomato-y" and mild—something that will likely entice vegans and vegetarians, and hopefully omnivores, too.
Tomatoes naturally contain lots of glutamic acids, which Ocean Hugger Foods says are responsible of the savory flavor of many meat foods. The company says it is already working to create similar eel and salmon products.
Whole Foods has been known to take risks with plant-based alternatives to meat products, most notably with Beyond Meat, a plant-based burger that is sold alongside real beef cuts in the store's meat section. That happened because an executive in the Rocky Mountain region of the company decided to give the meatless burger a shot when other executives and grocery chains passed on the opportunity.
The first shipment of Beyond Meat burgers was put on display alongside fresh meat products at the Boulder Whole Foods store on a Thursday in May 2016. By 6pm every package, each containing two quarter-pounders, was sold.