In the world of luxury one-upmanship, "my other house is an Aston Martin" is a boast you might hear soon.
The venerable British luxury sportscar brand, immortalized in James Bond movies since the 1960s, is getting into real estate. The company broke ground on a 66-story sail-shaped glass and steel apartment building in downtown Miami yesterday (Oct.18).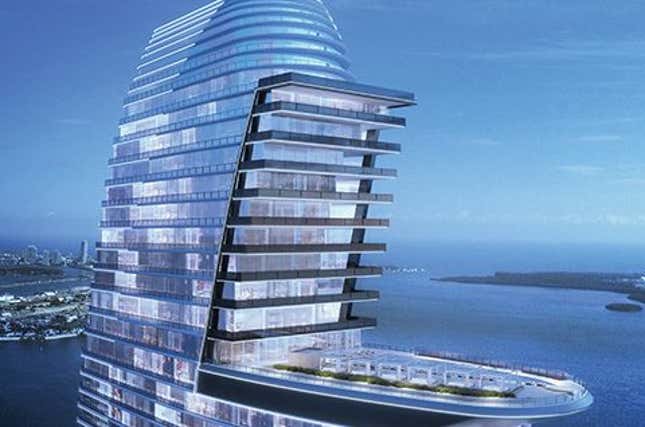 From the company description, living in the Aston Martin Residences Miami sounds not unlike living inside one of its super-swish cars. The building promises carbon-fiber reception desks, Aston Martin door handles, and accents of its signature kestrel tan leather. 
The 391 condos will sell for between $600,000 and $50 million, and include seven penthouses and a duplex penthouse with private pools. There will also be a spa, cinemas, and a virtual golf room, as well as direct access to a yacht marina. You get the picture.
Aston is not the first sports car brand to branch out into high-end real estate, as it happens: Porsche has a 60-story tower along the coast on Sunny Isles Beach, complete with car elevators to take your beloved German motor up to the apartment.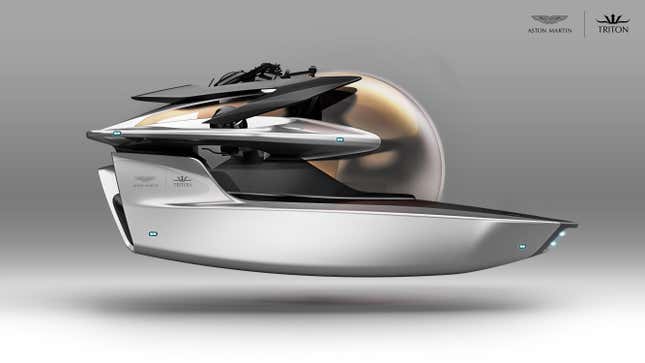 Aston doesn't appear concerned about diluting its brand as a heritage automaker. The condo venture is just one of the ways in which it is diversifying into a general luxury brand, rather than just a car company. Last month, it announced a partnership with Triton Submarines to make a limited edition one-seater submersible for underwater exploration, with a price tag of around $4 million.
The company also has a new a store in London's posh Mayfair district, where Aston Martin baby strollers sell for $4,000. CEO Andy Palmer said at the store launch: "Wouldn't it be great if you're down in a luxury harbor somewhere staying in an Aston Martin apartment, with your Aston Martin parked in the car park, and your Aston Martin boat harbored outside?"