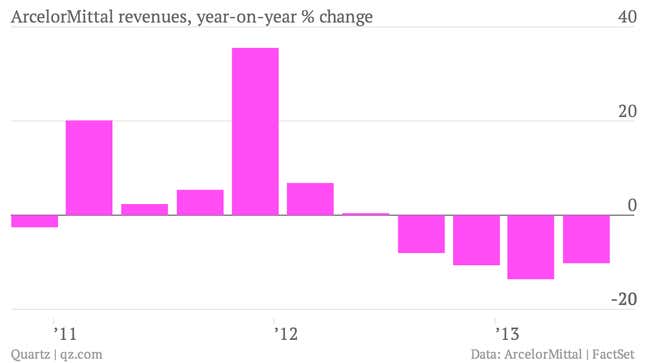 The numbers: Poor. The world's biggest steel maker lost $780 million during the second quarter of 2013. Last year, it made $1.02 billion in the second quarter. Operating earnings—before the impact of interest, taxes, appreciation and amortization—were $1.7 billion, down 34% from the same period in 2012. Sales slipped 10% to $20.20 billion. The company cut its full-year profit guidance. The stock fell.
The takeaway: The global economy is still producing a lot more steel than demand calls for. That shouldn't be a surprise for the Luxembourg-based steel giant. But today's results marked a retreat of sorts for the company, which saw its stock rise after it released similarly bad first-quarter results but said things would be brighter in the second quarter. They weren't brighter.
What's interesting: One of the few sweet spots for steel recently has been the North American car market, which continues to bounce back from the worst of the recession, thanks—in part—to the rock-bottom interest rates provided by the US Federal Reserve. But ArcelorMittal cut down its forecast for both North America and Europe, citing "lower than forecast apparent demand," which means either that Arcelor was way too optimistic about the US market, or that the US recovery may be slowing slightly.