Lord & Taylor will soon have a new roommate in the building it has occupied for more than a century on 5th Avenue in New York City.
After Christmas of 2018, co-working service WeWork will take over most of the giant Italian Renaissance-style building, the New York Times reports (paywall). Lord & Taylor's parent company Hudson Bay sold the space for $850 million, according to the announcement today (Oct. 24). The iconic building will now double as WeWork's New York headquarters.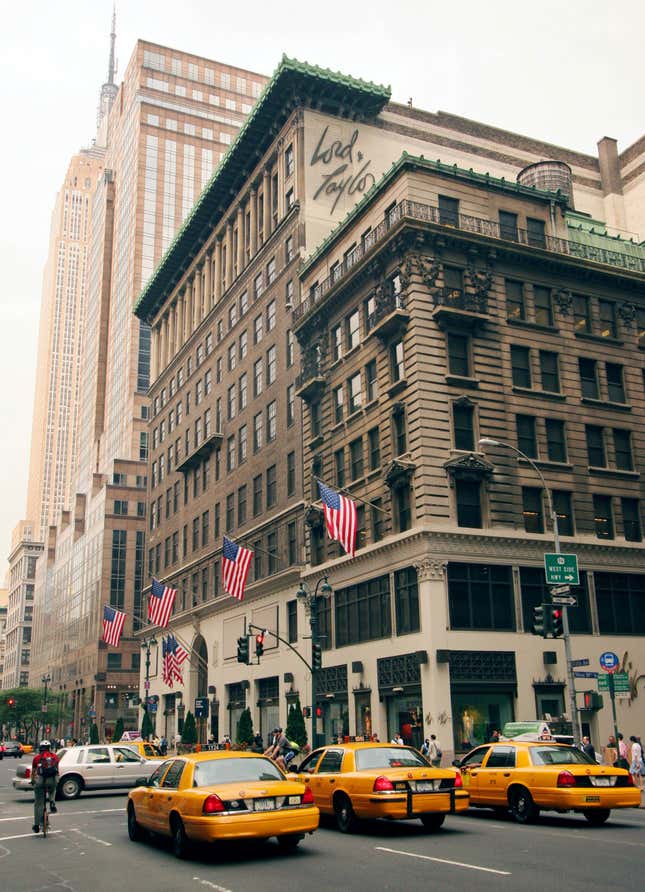 Department store Lord & Taylor will reduce its operations to just the bottom floors, and will see its flagship location shrink to about 150,000 square feet, less than a quarter of the 676,000 square-foot building housing it. The deal also extends beyond New York. At Lord & Taylor stores in Vancouver, Toronto, and Frankfurt, WeWork will take over the top two floors of those stores and pay Lord & Taylor rent.
The news sounds like another sign of the rapid decline of department stores, and more evidence that US retailers often take up far too much space in the age of e-commerce. Richard Baker, the interim CEO of Hudson's Bay Company, or HBC, couldn't deny that pressure when talking about the news today at WWD's Apparel & Retail CEO Summit in New York.
"I think we are in a moment of absolute transition," he said. "All of us have to spend our time thinking about how to reinvent, how to reactivate, and how to win."
But he also tried to frame the situation a little more optimistically, encouraging his audience to think of WeWork in Lord & Taylor like the coffee bars and restaurants that have been popping up in department stores—and a source of potential new customers.
Baker wasn't scheduled to talk at the summit but agreed to answer questions after the news broke this morning. He described the thinking leading up to the deal, and said HBC hopes to expand similar deals to more stores.
"We bought a bunch of old, tired department stores in many cases, and we want to reinvent them, make them more exciting, more interesting," he said. "One of the ways of doing that is to bring other uses to our buildings, so in Canada we were the first to launch Topshop inside of department stores. We have a Kleinfelds in Toronto. We've opened up food halls and restaurants, catering facilities, and now in addition to rolling out younger, better, different brands, we'll be rolling out WeWork hopefully in a lot more locations than the first four."
Baker also noted that WeWork appeals to a young demographic, which could help it revitalize its customer base in the locations where it has WeWork offices. "We will drive all of those millennial customers through all of our entrances in the middle of the store, and create a tremendous amount of excitement and interest in our retail locations," he said.
Not least of all, Lord & Taylor gets to reduce the size of its stores. Baker said the company plans to focus on a small footprint of high-quality physical stores, while building out its presence online, where more and more people are doing the shopping they used to do in all those big department stores.