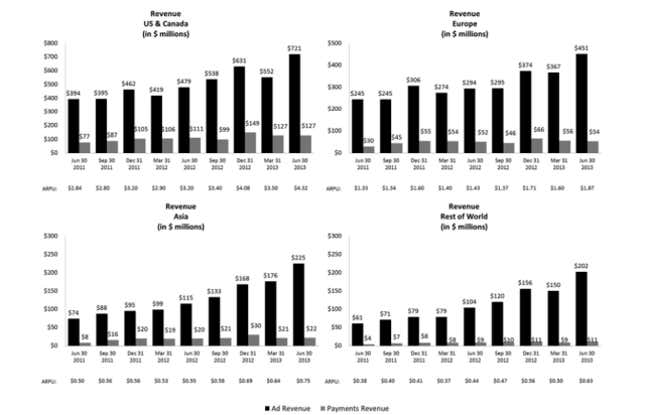 In April, Facebook made it easier for advertisers to peddle their wares on feature phones (non-smartphones). At the time, Quartz dismissed Facebook's move as too little, too late. But it looks like we were wrong. The move may have come late, but with the news last week that 100 million users—a tenth of Facebook's total—now regularly access the social network on their feature phones, it's hardly little.
Analyst Jon Milani took a look at Facebook's filing for this year's second quarter and found that the social network had nearly doubled its ad revenue from Asia compared with the same quarter last year, bringing in $225 million versus 2012's $115 million. The same held true for the region categorized as the "rest of the world"—anywhere that's not North America, Europe or Asia—where second quarter revenue revenue rose from $104 million in 2012 to $202 million this year.
Admittedly, this stellar growth started from a low base. Compared to Facebook's total ad revenue in Europe ($451 million this quarter) and North America ($721 million), other parts of the world are still tiny. But the growth in the most recent quarter has seen a sudden uptick, as the charts (pdf) above show.
Taken together with the cheering news that mobile accounted for 41% of the company's $1.6 billion in ad revenue, Facebook seems to be turning things around in regions that are its biggest source of users but smallest source of income. Indeed, mobile ads may provide a hint of the trajectory of revenues to expect  from non-US and EU sources. As we noted last week, the share of mobile in Facebook's advertising revenue has grown quickly since the company first paid attention to it in last year's third quarter. The company's hard work should leave it plenty of room to run in the developing world.