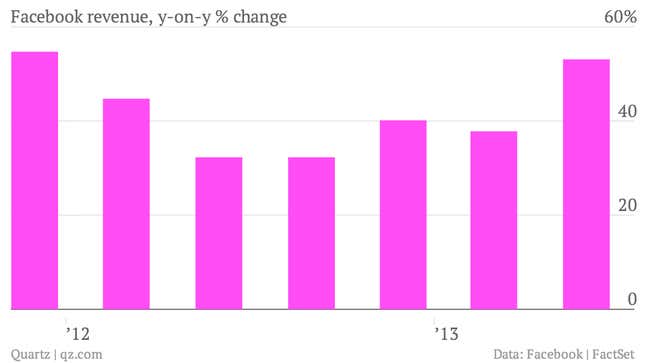 The numbers: Pretty good. Quarterly profit rose to $333 million compared to a $157 million loss the company suffered during the second quarter of 2012, the company's first public quarter. Its loss stemmed from compensation expense for employees related to its IPO. Sales rose 53% to $1.81 billion. Shares surged in after-hours trading.
The takeaway: Facebook continued to grow its mobile advertising. Mobile accounted for roughly 41% of the company's $1.6 billion in advertising during the quarter. That's up from the last quarter when it was at 30%. (Q4 '12 was 23%. And it was 14% during the third quarter, when the company first started breaking out mobile.) And importantly, the company seems to be getting a little bit better at doing mobile ads profitably. (Mobile ads traditionally aren't as profitable as desktop ads.) Facebook's operating margin rose to 31% during the second quarter, up from 26% last quarter.
What's interesting: Investors and analysts have been getting a bit more skeptical about digging into the details of Facebook's "monthly active users" metric. That number rose 21% to 1.15 billion, the company just reported. But by some accounts there are as many as 100 million accounts for nonhuman entities like pets, brands and even toasters, which are counted in the monthly active users rubric.