Tensions are high this morning (Oct. 28) ahead of two big American white supremacist gatherings in Shelbyville and Murfreesboro, Tennessee. They have been organized by the Nationalist Front, who will be joined by other white-supremacy groups, such as League of the South, Vanguard America, Anti-Communist Action, and The Right Stuff.
The official invitation says that the key goal of the event is to protest a fatal church shooting in Antioch last month—a man from Sudan was arrested after the attack. But the larger context of the event is to rail against refugee resettlement in the state, and the invite also makes it clear that it is Donald Trump's refugee policies that are at the core of the protest. It reads:
"We also want to express our anger at the Trump administration which recently took Sudan off the travel ban list the day of the Antioch church shooting. It also followed up by announcing an "America First Refugee Program" which means dumping 45,000 refugees a year in places like Middle Tennessee while not saying a word when a Sudanese refugee who failed to assimilate goes on a rampage."
The president has so far not responded to this, either on Twitter or via a spokesperson.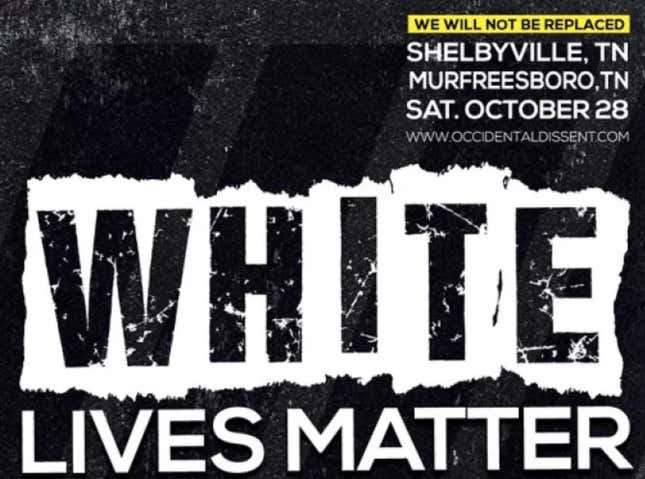 "We don't want the federal government to keep dumping all these refugees into middle Tennessee," Brad Griffin, a League of the South member, told Reuters. Around 18,000 refugees have been sent to live in Tennessee in the last 15 years—that's less than 1% of the state's population.
As well as expressing their anger at Washington's refugee policy, the demonstrators say they want to to protest the current administration: "The Trump administration has also failed to build the border wall and is working with Nancy Pelosi and Chuck Schumer to pass a new version of the DREAM Act amnesty."
The event organizers said they don't want clashes with AntiFa counter-demonstrators and don't expect the rallies to "become another Charlottesville." They asked attendees not to bring "masks, firearms, knives or any type of weapon as well as flag poles, sticks and clubs."
That has done little to reassure to residents of Shelbyville, where shops have been shuttered (paywall) until Monday and the police force has been put on weekend work duty.