Europe's biggest exchange operators are seeking new chief executives that will be at the helm of their companies as Brexit unfolds. London Stock Exchange Group CEO Xavier Rolet is departing after leading the company for eight years, while Deutsche Boerse boss Carsten Kengeter is leaving after being dogged by insider trading allegations.
It wasn't supposed to be this way. When they formally announced plans to combine in March 2016, the deal's architects believed it would create a stronger company that could better compete with larger US and Asia rivals. The tie-up could've been the most profitable company in its industry, reaching into more than 30 countries. Just as Airbus is a counter to Boeing, LSE-Deutsche Boerse would create a European champion.
The basic terms of the deal were its undoing: Rolet, a Frenchman and Goldman Sachs alum, would've stepped away when the transaction was completed. In exchange, the corporate headquarters would be in London. Kengeter would become CEO.
Three months later, Britons voted to leave the EU. Executives devised a Brexit committee to help steer through that outcome, but it wasn't enough. Brexit made the London headquarters untenable for German authorities. ''Things changed totally after the Brexit," Volker Bouffier, premier of the German state of Hesse, said in February.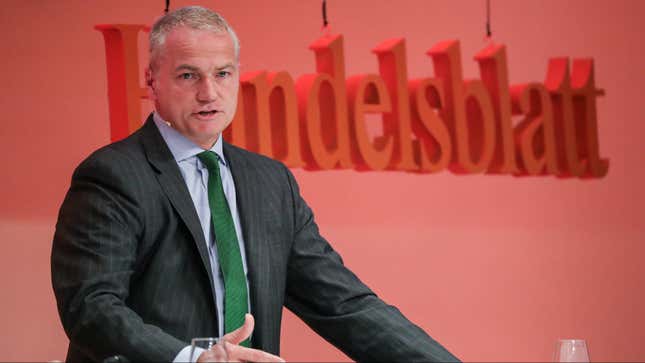 There was more to it than just the headquarters, of course. Competition watchdogs were scrutinizing the deal, and they decided it couldn't go forward unless the LSE offloaded part of its Italian business, which Rolet declined to do.
German officials were also investigating exactly when deal discussions had commenced, because that raised questions about a stock purchase by Kengeter. The company said the allegations were "unfounded in all respects," but the probe, regardless of the outcome, didn't help an already difficult transaction. It was the third time since 2000 that a merger between the companies had failed.
What's left, for those who wanted to see Britain remain in the EU, is a corporate metaphor for Brexit. The deal's collapse means a chance "to strengthen the global competitiveness of Europe's financial markets has been missed," according to Joachim Faber, chairman of the Supervisory Board of Deutsche Boerse. Likewise with Brexit, the UK is home to Europe's biggest capital markets, and its departure from the EU complicates efforts to unify the region's financial pools.
Now the companies are going head-to-head against each other over turf that had previously seemed settled, and they're playing a prominent political role in that battle. This is most notable in clearing: One outcome of the financial crisis is that derivatives clearing houses—which stand between traders, taking collateral to offset risks—became far more important. LSE owns one of the biggest and most important ones, but EU politicians and Deutsche Boerse are working to pry euro clearing out of the British capital. Protecting the business has been a major part of Rolet's job since Brexit, and he's been an ally to No. 10.
"Rolet has become a key voice for the UK's financial centre in the Brexit debate, particularly in pointing out the risks of a hard Brexit and plans to pull clearing of euro derivatives out of London," said Anish Puaar, an analyst at Rosenblatt Securities Inc.
Finding a new CEO for the LSE at a pivotal time isn't ideal for the firm or Britain, and the same goes for Deutsche Boerse. But if you believed the companies were stronger together, they may be weaker as they clash now.