Two grandmothers in their 80s dispensing advice to women are now internet celebrities China.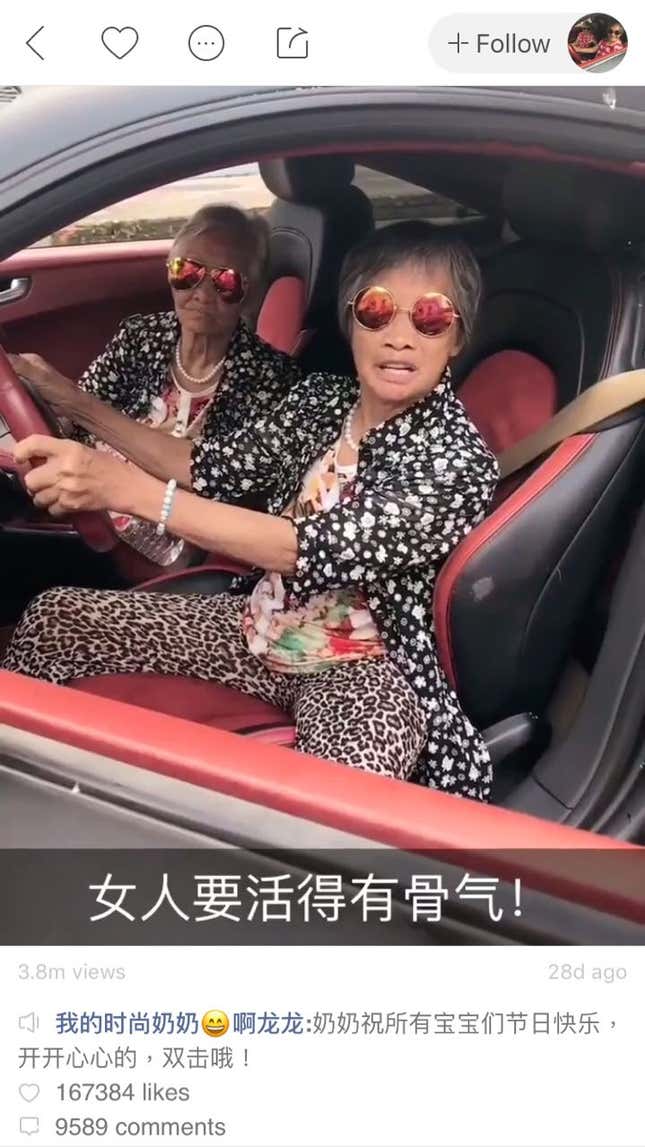 "Women must live with backbone—you can get into a relationship and treat it seriously for the purpose of marriage, or you can choose to do it just for fun, or you can stay single with pride. But no matter what, women shouldn't expend their youth on training a man who will become the husband of another," said 81-year-old Wei Yuqin, wearing a pair of reflective red sunglasses while in a car, in an early October live-stream that has garnered some 3.8 million views.
Sitting next to Wei was 89-year-old Qin Cuiqiong, her live-streaming partner. The two have nearly 3 million fans on China's live-stream service Kuaishou.
The two grannies from the city of Liuzhou in Guangxi province started live-streaming in March, breaking into a a massive industry in China that is largely dominated by young women (paywall). China's live-streaming business is expected to reach $5 billion this year, according to one estimate.
The two have produced some 147 shows on their Kuaishou channel, called "My Fashionable Grannies," (link in Chinese), which brings in nearly 10,000 yuan ($1,500) every month for the duo, reported news outlet China News (link in Chinese) last week.
The show's producer, Jiang Yaolong, also the grandson of Wei, decided to open a live-stream channel for the two after a video of Wei riding a motorcycle went viral on social media this year. He told China News (link in Chinese) that he plans to give thousands of yuan earned from the live-stream to the two women.
The live-streams often take place inside a car, sometimes even a convertible, with Wei taking the lead and Qin playing the supporting role and answering with "dui, dui, jiang de dui," which translates as "yes yes, that's correct."
"A woman must know how to make money, how to drive a car, and how to wear make-up. [She must] always make sure that her car's gas tank is full, that her phone is charged, and her wallet filled with money," said Wei in one stream this month. "That's how to be secure. The thought of counting on others is nonsense."