Razer, the company best known for producing computers, keyboards and mice for hardcore gamers, is stepping outside of its comfort zone. The company announced its first smartphone today, an Android device which it's simply calling the Razer Phone. (Don't confuse it with any similarly named phones, though.)
Razer purchased Nextbit in January, a hardware startup founded by Google and HTC alums that had focused on making a cloud-connected smartphone that effectively never runs out of storage. The design of Razer's first phone bears a lot of similarity to Nextbit's own Robin, except that the robin-egg-blue and white color scheme has been replaced by the matte-black aluminum you find on Razer laptops, and a set of massive front-facing speakers that are probably the loudest I've heard on a smartphone.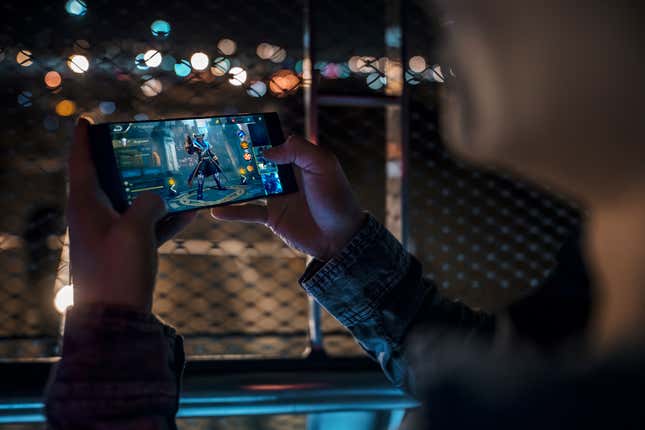 After playing with the phone for a few minutes, it was clear that Razer designed the phone for serious mobile gamers. It has 8 GB of memory, 64 GB of storage (expandable up to 1 TB through a microSD card), a sharp high-resolution screen that has a framerate of up to 120 Hz, and a powerful Qualcomm Snapdragon 835 processor. In short, it's about as powerful as my MacBook.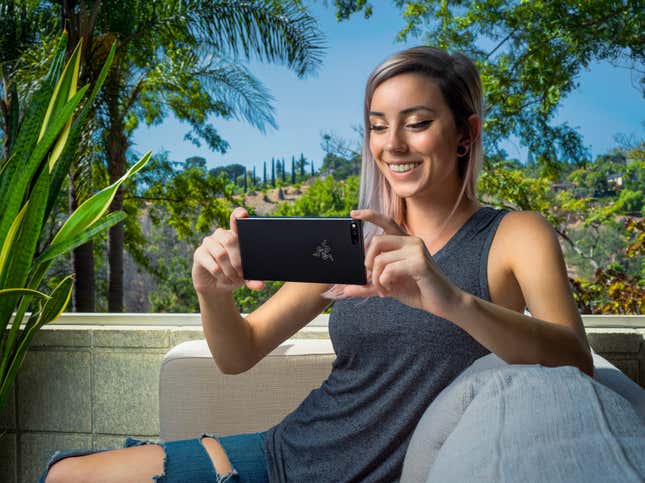 Razer's first phone also has a lot of features that everyday phone owners will enjoy. The 5.72-inch display looks great in all settings, and scrolling through apps like Twitter looks far smoother than it does on most devices because of that high framerate. The phone comes with an 8-megapixel front-facing camera, and two 12-megapixel rear cameras, similar to what you'd find on the latest offerings from Google or Samsung. It also has a massive 4000 mAh battery, more than double the size of the one found in the iPhone 8, and with the phone's quick-charging capability, it should be able to last for quite a while.
The phone also will cost $700 (€750 in Europe, and £700 in the UK), which puts it firmly in the pricing territory of the latest flagship devices from manufacturers like Apple, Samsung, LG, and Google.
As Razer prepares to go public (paywall) with a shaky profit history, any new devices that could drive new sources of income may well be welcomed by potential investors—assuming they don't become money pits draining resources from the company's core business.
The phone does still look a lot like the overly masculine laptops Razer produces, so it's not entirely clear whether this phone will provide enough to convince anyone beyond its core laptop owners to pick it up. It will be available online from Nov. 17.