"Not enough storage." This is my iPhone's favorite saying. After using the phone for just under a year, I've already taken enough photos and videos, downloaded enough music and apps to fill up the phone. If I want to back up all my data, I have to pay Apple between $1 and $20 a month to store it in the company's cloud. A new smartphone from Nextbit, founded by Google and HTC alums, wants to make running out of storage a thing of the past.
Nextbit says its Robin smartphone, which is for presale on Kickstarter as of today (Sept. 1), is the only "cloud-first" phone. What does that mean? The team, run by CEO Tom Moss and tech officer Mike Chan—both of whom worked on Android's genesis—rebuilt Android to automatically back up and store data on the cloud. Robin's operating system learns how you use your phone and pulls apps that you don't use often to the cloud, freeing up space on the phone. Robin backs up every photo you take, storing the full-resolution photo on the cloud and saving a lighter preview version on the phone itself. To bring a photo or app back onto the phone, just tap it and Robin will pull it back down from the cloud.
Chan showed me a version of Robin's software running on a Nexus 5, and it works pretty much as simply as he said it would. If you're familiar with Android, Robin won't be too hard to decipher, as Nextbit's modifications have been pretty minimal, apart from their cloud storage apps.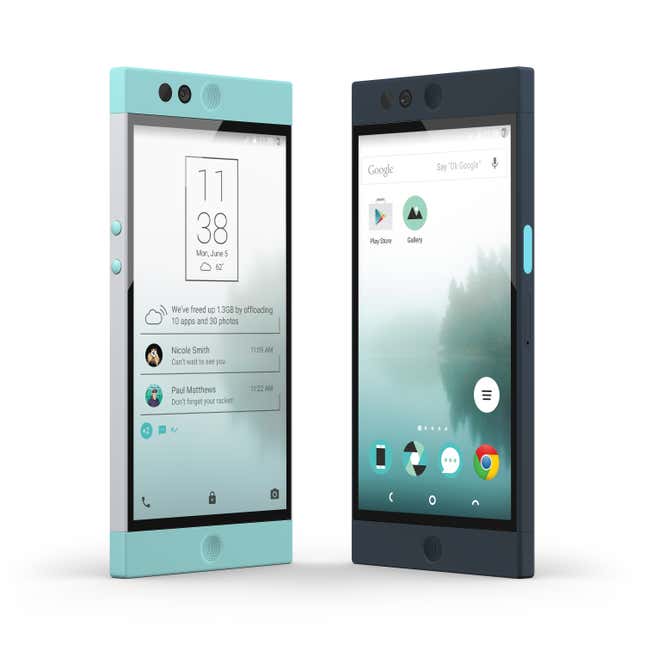 The phone itself, however, doesn't really look like any other smartphone on the market. Shipping in two colors—a deep blue and a surf-green-and-white version that would look right at home in a Beach Boys video—the Robin was designed by Scott Croyle, the former design lead at HTC who was behind the vaunted One M7 and M8 phones. "We wanted to do something kind of bold," Croyle told me. "Good design should be a little provocative." And the Robin is—the early builds Croyle showed me aren't the rounded metal or black plastic designs that most other smartphones share. The Robin is squared-off corners and a plastic finish that looks and feels different in your hand. On the back of the phone, there's series of lights that let you know when the Robin is connected to the cloud. There's also a single notification light on the bottom that can be seen whether the phone is facing up or down.
Each phone will ship with 32GB of storage on board, but 100GB of free cloud storage, which Moss says makes the phone feel like a much bigger phone when it's connected to the cloud. When it's offline, it'll pretty much function like any other Android phone. Other companies will charge premiums for additional on-board storage, but Moss thinks the answer isn't about just adding more storage to phones. "The industry is ripping people off," Moss said, "Storage isn't expensive." And to back up that claim, Nextbit won't charge any fees if you go over your 100GB allotment—for now, at least—even if you're an HD-video-shooting, app-downloading maniac. (A spokesperson explained the 100 GB allotment: "We thought most people would not crack this limit and it's a nice round number, larger than what other [manufacturers] are offering and is what [Nextbit] think the [Amazon Web Services] backend can handle.")
The Robin still needs to get FCC certification for use in the US before it ships in January. The team said they will likely ship the Robin with their modified version of Android Lollipop, but are hoping to have a version of Marshmallow ready for early adopters soon after the phones ship. The first thousand backers on Kickstarter will be able to get the phone for $299, then it will cost $349.
While Nextbit is backed by investors including Google Ventures and Accel Partners, the team said they're launching on Kickstarter to gauge interest in the Robin, and to see what consumers like and don't like about the phone—including the unique color schemes. "Kickstarter helps validate if it's a product that people want," Moss said. After the Kickstarter run, the unlocked phone will cost $399—the same as a OnePlus 2—on Nextbit's site.
Nextbit joins the growing list of companies hoping to sell Chinese-made, flagship-quality smartphones directly to Western consumers for less than the likes of Apple, Samsung, and HTC's phones. There's no guarantee that this business model will pay off in the long run, but Nextbit hopes it's found a differentiator in this increasingly crowded market by addressing the stress of having smartphone companies essentially holding your data ransom. For now, it remains to be seen if that strategy will be enough to compete against big manufacturers, or if the Nextbit team just have their heads in the clouds.