Dairy accounts for more than 25% of all exports from New Zealand. So the announcement from New Zealand's largest exporter of dairy products—Fonterra Cooperative—that some 1,000 tons of exported infant formula and other products may contain a bacteria that could cause botulism is very big deal for the country. For one thing, it jeopardizes its booming trade with China.
As we've pointed out before, China briefly overtook Australia as the largest market for Kiwi exports earlier this year. (Though Australia has recently taken back its traditional top spot.) But in recent years demand for dairy has radically reshaped New Zealand's agricultural economy. Enticed by high prices for dairy, beef and wool, farms have shifted to dairy cattle en masse. In fact, now the country some refer to as the "Saudi Arabia of milk" has more dairy cows than its 4.5 million people.
With the country making such a large bet on dairy, the prospect of a potential decline in foreign demand sent the country's currency down Monday to its lowest level in nearly a month.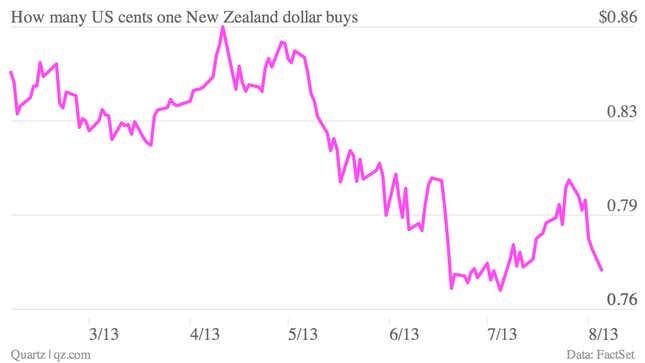 (In order to buy New Zealand's milk, Chinese, or any other foreign buyers, must have New Zealand dollars to pay New Zealand's farmers. So the specter of lower foreign demand for milk from the Pacific island nation lowers expected demand for the currency.)
Hopefully the damage from the contamination scare—it apparently stemmed from a pipe that had not been adequately cleaned—can be contained. Theo Spierings, the chief executive of Fonterra, embarked on a hastily planned trip to China (paywall) to try to smooth things over. But anxieties in the People's Republic remain understandably high. In 2009, two Chinese men were executed for selling tainted milk in the aftermath of a scandal that sickened some 300,000 children and killed six infants.